---
Thursday, November 7, 2013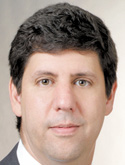 Photo
By Ed Runyan
WARREN
Steven M. Dettelbach, the U.S. attorney for Northern Ohio, reassured Warren residents that forces continue to be deployed to help local law enforcement in the aftermath of two recent homicides.
Federal officials took hundreds of guns off Warren streets in the spring, and they have had a good relationship with Warren officials "for years now," Dettelbach said at a news conference Wednesday.
"I expect that the commitment will continue, and that in the next weeks and months you will be hearing more about the things we are doing in the community in Warren," he said.
Dettelbach declined to cite specific actions that will take place to assist Warren police.
He listed initiatives that federal officials such as his office, the U.S. Marshals Service, and Bureau of Alcohol, Tobacco, Firearms and Explosives have used to help Warren solve crimes.
Among these were the expanded violence-interdiction program VGRIP that was extended into Warren a few years ago, the Justice Department signing a "groundbreaking constitutional policing agreement" with the Warren Police Department, and federal agencies participating in "operations like Little D-Town that resulted in the arrest of nearly 100 people and hundreds of guns being taken off the street."
Little D-Town involved the arrest of nearly 100 people on federal and state charges connected with drug dealing and violence, some of it involving individuals involved with Detroit gangs and organizations.
Asked whether threats on social media websites in recent weeks that canceled Friday night's Warren G. Harding Football game have connections to Detroit, Dettelbach said he wouldn't comment on specific incidents. He did say, however, "in general over the past months, as we've seen the case mix, it's a little of both" Detroit and local individuals.
Dettelbach said it was easy for him to answer Mayor Doug Franklin's recent call for assistance "because it's going on anyway."
Franklin said he also called Friday on U.S. Rep. Tim Ryan of Howland, D-13th, about how "to bring certain resources to the table and what we could do to ensure our constituents that life is normal in the city of Warren, that we're a safe community."
Ryan listed a recent $250,000 federal police grant the city police department received and said there is a "coordinated effort to continue to push back, and we've got a lot of work to do with economic development."
Taemarr Walker, 24, was fatally shot by a Warren police officer on Risher Road Southwest on Oct. 19 after Walker crashed his car into a ditch and reached for a handgun, according to statements captured on the dash-cam video from another officer's car.
Richard C. Rollison, 24, was shot to death in a West Market Street gas station parking lot one week later. Warren police have charged Walker's brother, TaShawn Walker, 26, of Texas, with the crime.
Asked whether the police department should have released information right away about a murder arrest warrant for TaShawn Walker just after Rollison's killing, the mayor said his administration is "working on a protocol to just address those things, particularly on the weekends, when we don't have our public-information officer on duty."
Asked whether the recent threats received in the aftermath of the homicides targeted police officers or others, the mayor said, "It's a mixture."
The city has declined a public-records request from The Vindicator to view copies of the threats.