Champion farm offers home-grown, naturally raised turkeys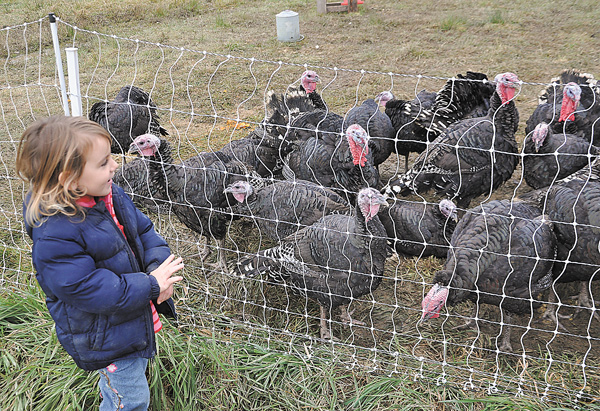 ---

Photo
Willow de Szalay, 3, looks at how pasture raised turkeys live before they head to area dinner tables for Thanksgiving. She was with her father, Ferenc, who owns Meadowhawk Farm in Champion.
By JAMISON COCKLIN | jcocklin@vindy.com

CHAMPION
In the next three weeks or so, grocery stores across the country and the Mahoning Valley will scramble to keep coolers stocked with turkeys for Thanksgiving.
In 2008, there were 271 million turkeys raised in the U.S. that weighed a combined 7.9 billion pounds — a value of $4.5 billion, according to the U.S. Census Bureau.

Through 2012, the number of turkeys raised hadn't changed all that much.
Most store-bought turkeys are raised by large, commercial poultry operations. In the few short months it takes to raise them, they have about 4 square feet of living space and share sheds that hold up to 10,000 birds.
In Champion, though, just off Mahoning Avenue Northwest, down a small dirt driveway and tucked behind a farmhouse obscured by tall grass, two flocks of pasture-raised turkeys are eating about 1 pound of natural feed per day. That's on top of the insects, seeds and other treats they can pluck from the ground of their pens.
They're getting plump, and with room to roam, a balanced diet and some extra care, their meat will have a firmer texture and a more robust flavor by the time they reach area dinner tables for Thanksgiving feasts.
The turkeys are both living, and being raised, as they're supposed to, says Ferenc de Szalay, who owns Meadowhawk Farm and tends to the flocks.

"They're good for small-scale farmers — they're great for my pastures," de Szalay said of the kind of turkeys he raises and their cooperative tendency to forage and fertilize the fields around the farmhouse. "The horses love it."
To be sure, Meadowhawk amounts to what de Szalay calls a "hobby farm." He raises chickens for meat and eggs, sells firewood and he has recently ventured into selling maple syrup with a neighbor.
His wife, Chantelle, gives horse-riding lessons and boards the animals, as well.
But in the roughly eight years that de Szalay has raised turkeys, word of their rich, natural flavor and locally grown lifestyle has spread quickly.
The mail-order chicks, or poults as they're formally called, arrive in the spring, and by Thanksgiving, they're butchered and sold locally through the Kent Natural Food Co-Op, Grow Youngstown and the Trumbull Neighborhood Partnership.
The business has grown each year, and all but two of the turkeys at the Meadowhawk Farm were spoken for as of Wednesday.
"We could have sold more than 60 this year with all the interest," de Szalay said.
"But you have to prepare ahead of time, and we're still learning how the business works."
De Szalay works as an ecology professor at Kent State University. His wife has a full-time job, as well.
He estimated that he spent about 60 hours raising each flock of 30 turkeys this season.
The first flock consists of Broad-Breasted Bronze Turkeys, which are rarely produced commercially. They take about four months to raise for slaughter and they grow a bit slower than Broad-Breasted White Turkeys, which are the kind that typically find their way to grocery store coolers after rearing at commercial operations.
The bronze turkeys have thick feathers, making mass-plucking a bit more difficult for larger operations.

The second flock consists of Heritage turkeys, the oldest varieties of domesticated turkeys, that take about six months to raise.

As the Heritage turkeys clamored toward onlookers, de Szalay pointed out a Bourbon Red Turkey, a breed that originated in Kentucky.

The flocks are kept separate, and no matter what the breed, they're a peculiar bunch.

For the duration of the farm tour and interview, de Szalay was accompanied by his 3-year-old daughter, Willow. Though she was busy tending to a wooly bear caterpillar that she'd plucked from the ground, she found time in between tousling the poor creature and balancing it on a stick to share information about the farm.
As she let out loud noises and gestured about the turkeys, they responded with a collective gobble.
De Szalay explained that there is no established hierarchy within the flocks and the toms were competing for the affections of the hens by trying to be the loudest in the group.
The flocks moved in unison and proved to be curious about their visitors.
The bronze turkeys will sell for about $3.25 a pound, while the heritage turkeys will sell for about $4.25 because they take longer to raise.
"The reason why people buy these for $4.25 a pound — which might sound a little crazy to your readers — is because it makes a lot of sense after you think about it."
De Szalay attributes growing sales to the fact that the turkeys are locally grown, which is appealing to buyers.
He said customers also like the fact they're naturally raised on a vegetarian diet free of antibiotics or additives.
Above all else, he said, the taste of a fresh pasture-grown turkey can't be beat.