Officials continue to keep the public in the dark about Facebook threats, investigation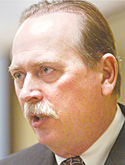 ---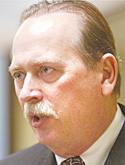 Photo
By Ed Runyan
WARREN
Warren Law Director Greg Hicks has refused The Vindicator's request for copies of Facebook posts that led to disruptions in Warren schools last week, and police are not providing additional information about a killing a week ago.
A handful of people outside Warren G. Harding High School on Monday afternoon said Friday's football game was canceled for a good cause, but recent events are putting the city in a bad light.
Facebook posts, apparently from individuals connected to the shooting deaths of Taemarr Walker on Oct. 19 and Richard Rollison on Oct. 26, were given as the reason why Warren Superintendent Michael Notar canceled Friday night's Harding home football game.
Walker, 24, was killed by a Warren police officer on Risher Road Southwest after Walker crashed his car into a ditch and reached for a handgun, according to statements captured on the dash-cam video from another officer's car.
Rollison, 24, was shot to death in a West Market Street gas station parking lot. Warren police have charged Walker's brother, TaShawn Walker, 26, of Texas, with the crime.
Jeff Cole, Warren police spokesman, said Monday that steps are being taken this week to bring Walker back to Warren, but he said he didn't know when he would return. Walker waived extradition last week during a court hearing in Texas.
Notar said the problems cited by police as the reason for canceling the football game had to do with adults, not students in the school system.
Officials have suggested that Facebook posts have threatened retaliation, but it's unclear whether it's retaliation for the Walker and Rollison killings or just one of them.
Hicks said any information the police department has in its possession regarding the threats is "investigatory" in nature and therefore not open to public inspection.
Notar said he would be working toward setting up a senior night to spotlight the seniors who didn't get to experience their final football game Friday, such as football players, band members and cheerleaders. As of Monday afternoon, arrangements had not been completed, he said.
Deborah Croff of Warren, a parent of several teenagers, said Monday she wishes "everything would just go back to the way it was" when she was a kid in Warren.
"I have to turn off my TV at night just so I can hear if somebody's breaking into my house," she said, adding that her house has been broken into twice, somebody pulled a gun on her son at a gas station, and people "can't get out [of their car] without looking around."
Tyler Kelly, a freshman at Harding, said the two killings and the cancellation of the game give Warren a negative attention it doesn't deserve.
"People are making it seem like Warren is worse than it is, like it's a bad place to be," he said. "I feel safe in Warren. I grew up in Warren. You just have to watch what you say to people."
Tyler said students don't know who the people are who are posting threatening messages and feel caught in the middle.
"We were in agreement with it," his mother, Rose Hamilton, said of canceling the football game. "But I felt it wasn't fair to the students."
A female Harding student who declined to give her name said it didn't bother her that the game was canceled. "It was for a good cause," she said.
Meanwhile, Cole gave the same answer Monday to all questions regarding Rollison's death: "That is under investigation."
For example, he was asked whether police recovered a firearm that may have come from Rollison, whether Rollison was at the same Warren Township tavern as TaShawn Walker earlier the night he died, and whether police have a motive in Rollison's death.
Asked whether the seven complaints of guns or gunfire received over the weekend is more than normal, Cole said shots fired are not uncommon. Asked whether the incidents might be connected to unrest as a result of the homicides, he said he doesn't know because he didn't review any incidents that didn't result in a police report.
Police investigated six complaints regarding gunshots being fired in various places in the city — West Market Street, McMyler Street, two locations on Parkman Road, Summit Street and Palmyra Heights.
None of them involved people being hit by the gunfire, so there were no reports filed, Cole said.
In a seventh instance, police were called to East Market Street downtown for a call of a man holding a female on the ground and threatening her with a gun, though no gun was seen. A man matching the description was questioned, but he had no gun, police said.