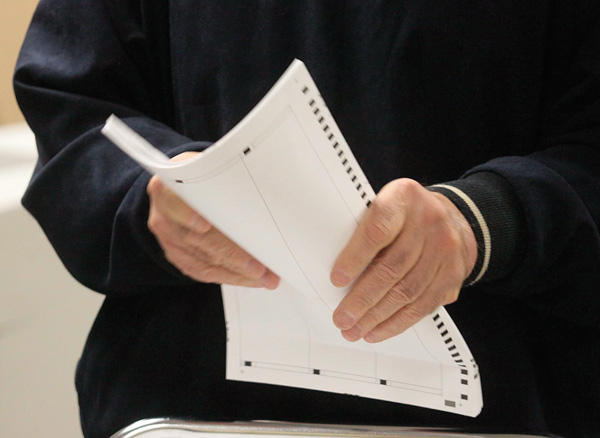 ---

Photo
Voters in the Mahoning Valley will go to the polls today to cast paper ballots on a variety of races and issues.
YOUNGSTOWN
Voters — but probably not many of them — will cast ballots at polling locations today.
Directors at boards of elections in the Mahoning Valley aren't expecting a good turnout in today's election. It's almost certainly going to be the lowest turnout in the Valley for a general election since 2007.
"I'm not expecting big lines," said Joyce Kale-Pesta, director of the Mahoning County Board of Elections.
Election officials expect turnout in Mahoning and Columbiana counties to be between 35 percent and 40 percent, and 30 percent in Trumbull County.
For those going to polling locations — open from 6:30 a.m. to 7:30 p.m. in Ohio — you'll need proof of your identity to vote.
Forms of identification, according to the Ohio secretary of state, include:
A current and valid photo identification card issued by the state of Ohio or the U.S. government.
A military identification.
An original or copy of a utility bill, bank statement, government check, paycheck, or other government document, other than a voter registration acknowledgement notification mailed by a board of elections, that shows the voter's name and current address. These documents cannot be more than a year old.
Voters who do not provide one of these documents at the precinct will still be able to vote using a provisional ballot, according to the secretary of state. An elections board would need to verify that the voter is registered and voting in the correct precinct for it to count.
Also, voters who do not have any of the above forms of identification, including a Social Security number, will still be able to vote by signing an affirmation statement swearing to the voter's identity under penalty of election falsification and by casting a provisional ballot, according to the secretary of state.
Those who requested early-voting ballots and haven't turned them in yet had to have it mailed to their board of elections by Monday and for it to arrive no later than 10 days after today's election for it to be counted. The other option is to drop it off at your county board of elections by 7:30 p.m. today.
Among the big races on today's ballot are: Youngstown mayor and city council president; two charter amendments in the city and two others in the city of Canfield; trustee races in Austintown, Canfield, Poland, Hubbard and Liberty, among numerous others; and school board races in Youngstown, Austintown, Boardman, Poland, Canfield, Girard, Hubbard and Warren, among others.
The Canfield and South Range school districts are looking for voters to approve new tax levies, while the West Branch school district is asking for support of a 0.75 percent income tax.
Among the renewal issues is a 0.85-mill, five-year levy from the Mahoning County Mental Health Board to raise $3,266,510 annually.
The county board of elections' website incorrectly had the issue listed as a 0.085-mill levy until the error was brought to the attention of employees there by The Vindicator.
While it was wrong on the website, the correct millage is on ballots, elections officials say.
Early-voter turnout is less than in previous years in the Valley.
As of Monday afternoon, 8,223 Mahoning County voters, including 2,779 in Youngstown, had requested early ballots or already voted, Kale-Pesta said. She didn't have the breakdown of how many of those requesting early-voting ballots had voted.
Just two years ago, 12,824 people voted early including 3,507 in Youngstown.
In 2011, a statewide repeal of a law that restricted some collective-bargaining rights for public employees drove turnout, local elections officials say.
In Trumbull County, 4,384 voters requested early ballots and 3,937 had either mailed in ballots or voted at the board as of Monday afternoon, said Kelly Pallante, that county's board of elections' director.
In 2011, there were 10,867 early voters in Trumbull County.
The Columbiana County Board of Elections had 1,273 requests for early-voting ballots or people who came to its office to vote before today as of Monday afternoon, said Adam Booth, its director.
Of that number, 1,157 voted, he said.
"That's a 91 percent return rate, which is pretty good," Booth said. "We're normally pretty high, but 91 percent is a little higher than usual. We usually are somewhere in the 80s."
More like this from vindy.com