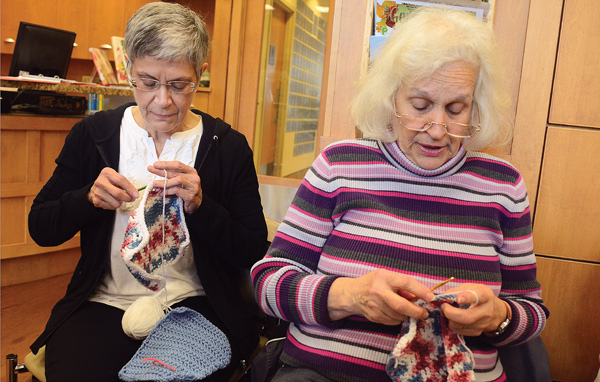 ---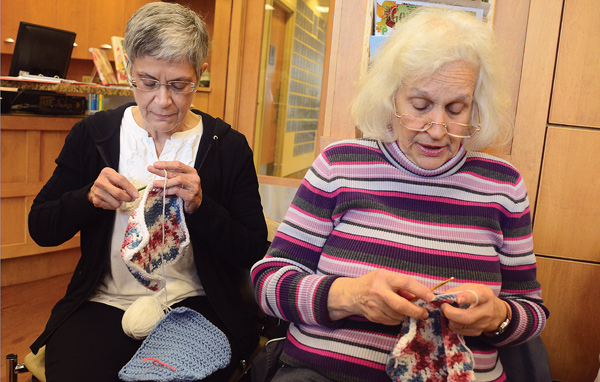 Photo
Sue Haek, left, of Boardman and Jeanie Williams, also of Boardman, crochet squares to make afghans that will be donated to area hospitals. The two are part of a group that meets at Fellows Riverside Gardens in Mill Creek Park.
By Sean Barron
YOUNGSTOWN
On the surface, it may seem that a few contradictions weave their way through a local knitting group.
The women love informality yet maintain the look of a well-organized unit. In addition, they enjoy socializing a lot, but are quite serious when it comes to making items to benefit others.
"We love to do it, but now we have a reason to do it," said Marlene Nelson, a member of a group called A Loose Knit, which met recently to make afghans and other items to donate to area hospitals. "It's kind of fun to do it for somebody else."
About 20 members gathered recently at the D.D. and Velma Davis Education & Visitor Center in Mill Creek MetroParks' Fellows Riverside Gardens to knit square patterns for small afghans, hats and blankets.
The items will be donated to the neonatal units at Akron Children's Hospital in Boardman and St. Elizabeth Health Center in Youngstown, noted Lucia Yurco, another member.
Many of those in the group, which formed Jan. 16, 2009, also made hats and scarves they plan to give to a local agency, as well as to the community during Christmas, member Jeanie Williams of Boardman said as she busily put together a colorful square section for another afghan.
The knitters have made more than 120 afghans, at least 300 baby blankets and roughly 125 such hats, by Williams' estimation.
"We call them 'blankets of love,'" added Yurco, whose cousin, Dr. Elena Rossi, is chairwoman and associate chairwoman of pediatrics at Akron Children's and St. Elizabeth's, respectively.
Other crafters hard at work on small afghans were Sandy Kreitzburg of Berlin Center, who knitted a mint-green baby item, as well as Nancy Chance of Austintown, who joined the group after having read an article in The Vindicator.
Focusing on finishing a 42-inch green-and-white scarf for one of the Christmas trees to be displayed in the visitor center was Nancy Silver, who became a member last January after having retired as a secretary for Mahoning County Children Services Board.
Also pleasing for the Boardman woman was the setting, which included a panoramic view of fall colors along Lake Cohasset.
"I grew up with the park; I've always loved Mill Creek Park," said Silver, who worked more than 30 years for CSB.
Anyone with knitting skills is welcome to join the group, which meets from 10 a.m. to noon the first and third Friday of each month at the Davis center, Yurco noted.
A Loose Knit needs yarn and other related materials, so those interested in making a donation are asked to call the Davis center at 330-740-7116 or drop the items off during regular business hours. The center is closed Mondays, however.