Solemn tribute to fallen heroes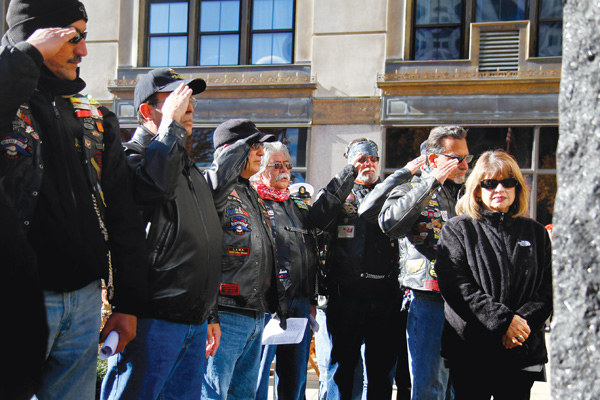 ---
Laying of the Roses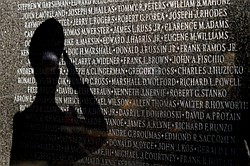 Video
By ELISE McKEOWN SKOLNICK
YOUNGSTOWN
A crowd gathered around a bucket of roses and a small table set for one near the Vietnam War Memorial downtown.
The Laying of the Roses ceremony Sunday paid tribute to the 100 Mahoning County men killed in action during the war, as well as the three who were prisoners of war or missing in action.
The Vietnam Veterans of America Chapter 135 of Youngstown hosts the annual event, now in its 22nd year.
"It's a day to remember our fallen heroes," said Stanley Clingerman, organizer of this year's event.
Veterans and family members laid a rose at the foot of the memorial as the names of the fallen were read.
"I think it helps families, for closure, and it's a way they remember their loved ones," Clingerman said. "And it's a special occasion."
The ceremony also included a table of remembrance. This table set for one included a white tablecloth, a lemon slice, a red rose, salt, a glass and an empty chair, symbols that denote the pure motives with which many served, their bitter fate, loved ones keeping the faith, family members' tears as they await the return of loved ones, soldiers' inability to make a toast and the fact they're not with family, respectively.
Lisa Wright of Austintown attends every year.
"My husband's a veteran and my best friend's father was killed in 'Nam, so we come out and support the veterans and the fellows who have served our country," she said.
She said it's wonderful the ceremony is annual.
"I think too many people forget," she said.
Though the Vietnam War ended long before they were born, members of Boy Scout Troop 60 of Boardman helped at the event.
Dan Raver, 14, led the Pledge of Allegiance. He has volunteered at the event for five years.
"It's very nice," he said. "It's very important to remember those who were lost during the war."
It was the first year for fellow Boy Scout Benjamin Burkey, 13.
"I think it's special," Benjamin said.
An aspiring Air Force pilot, he enjoyed the opportunity to ask questions of veterans who have been there before him.
David Santangelo, 12, also plans a military career and was happy to help.
"I think it's something good to let everybody know about who was in the Vietnam War and how they served and how they dedicated their lives to help our freedom," he said.
The event is co-sponsored by American Legion Post 472, IAWP Youngstown Sub-Chapter and AMVETS Post 44.
More like this from vindy.com