Knox parishioners share tears, cheers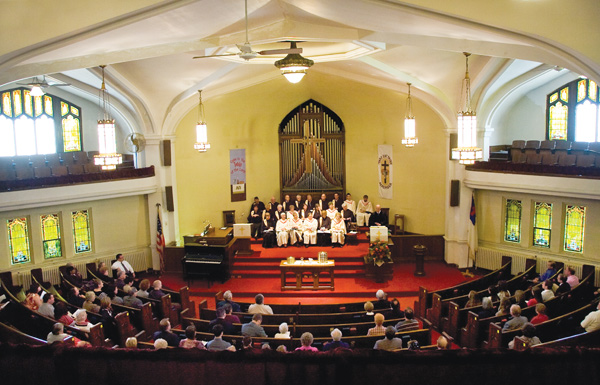 ---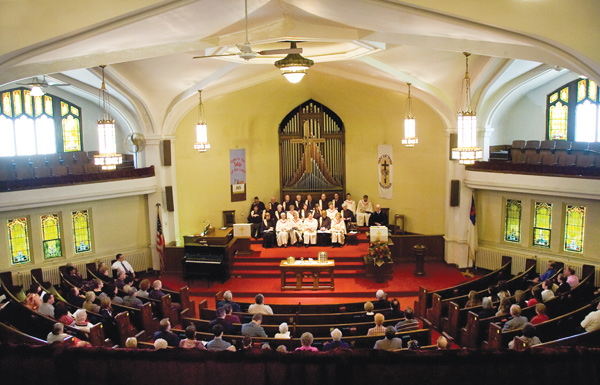 Photo
Congregation members listen to a sermon by the Rev. Peter Lawson during the dedication ceremony Sunday at John Knox Presbyterian Church on Market Street on Youngstown's South Side. The church is expected to close by the end of this month.
By Sean Barron
YOUNGSTOWN
The church may be 96 years old, but combining Edie Checkel and Jean Judy's years of membership adds up to 109 years – and countless memories.
"I will be very sad, but happy to know it was my church all these years," said Checkel, of Youngstown, referring to her 54 years as a member of John Knox Presbyterian Church.
She also was one of an estimated 100 visitors and parishioners who attended Sunday's two-hour dedication service at the church, 1806 Market St. on the South Side.
The service was to celebrate John Knox Church's history and future, honor past and current members and donate its 1927 Voteller-Holtkamp-Sparling organ to St. Patrick Church on Oak Hill Avenue, noted Alex Esseniyi, a member of session.
Accepting the rebuilt organ was the Rev. Ed Noga, St. Patrick's pastor.
Sunday's gathering also was to have been the church's final service, but talks regarding John Knox's merging with Christ Church Presbyterian in Cornersburg reached an impasse, Esseniyi explained.
As a result, an 11 a.m. service is planned for next Sunday, with possible additional services through the end of this month, he said. He added a session meeting is set for 7 p.m. Wednesday at John Knox Church to discuss its future.
The church was sold last summer to Community Corrections Association for $60,000.
Checkel, who started attending John Knox Church 65 years ago, said her son was baptized there and that she appreciated having made many friends.
Judy's daughter, Brenda Fraser of Austintown, fondly recalled her April 24, 1971, wedding in the church, as well as the baptism of her three children. Fraser added that she hopes people will remember the many ways the church reached beyond its walls.
"Today is very hard, yet I feel relieved to know that the church did a lot of good in the community," she said.
Judy also got hitched at John Knox when she married her second husband March 18, 1978.
Conducting Sunday's sermon was the Rev. Peter Lawson of Arlington Va., former pastor of Heritage Presbyterian Church in Poland.
"Each of you has your own story … about how this became a sacred place for you," said the Rev. Mr. Lawson, a full-time military chaplain who also served about 18 months as a periodic guest minister at John Knox.
During his sermon, Mr. Lawson cited the burning of a church during the May 1992 Los Angeles riots as a metaphor for the power of resilience.
As the pastor searched through rubble for anything salvageable, someone told him that everything of value was lost, to which the minister replied that he still had the Word of God.
Likewise, even though the two-story brick building on Market Street will no longer house their beloved church, members still have the most important assets: their faith and one another, he said.
Nevertheless, sadness and a sense of loss and confusion also are natural, he continued.
"It's OK to grieve your loss and rely on God to see you through," Mr. Lawson added.
Preceding his sermon, several church members, mixing tears and happiness, shared their memories of John Knox, occasionally eliciting applause and laughter.
Performing musical selections were the John Knox and St. Patrick choirs.
Sunday's gathering also featured the opening of a time capsule that was buried in 1956. Its contents included a July 9, 1956, newsletter, a tattered church bulletin dated Sept. 27, 1956, a 1953 program recognizing the 45th anniversary of South United Presbyterian Church (John Knox's former name) and an old hymn book with a torn front cover.