Vacation and luncheon mark Basingers' 50th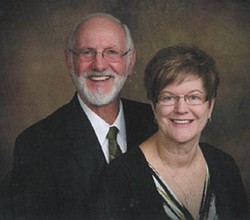 Photo
Mr. and Mrs. J. Paul Basinger
BOARDMAN
Mr. and Mrs. J. Paul Basinger of Boardman celebrated their golden anniversary with a vacation at Kure Beach, N.C. They were honored with a surprise luncheon Oct. 20 at Yolo Grille in Canfield by family and friends and renewed their vows.
The couple were married Oct. 26, 1963, at Winchester Methodist Church in Winchester, Va.
The family includes three children, Jay (Suzanne) Basinger of Longwood, Fla.; Rich (Debbie) Basinger of Poland, and Julie (Dorian) Cerneka of Canfield, and nine grandchildren.
The couple are owners of Basinger Auction Service and American Real Estate Specialists. They attend Old North Church in Canfield.