Open house will observe Bertons' 70th anniversary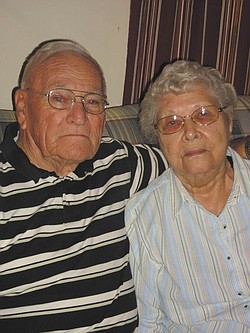 Photo
Mr. and Mrs. Clarence Berton
PETERSBURG
An open house will take place from 2 to 4 p.m. Nov. 10 at St. John's Church to honor Mr. and Mrs. Clarence Berton of Petersburg for their 70th anniversary. It will be hosted by their daughter, Carolyn Day of Petersburg.
Other children are Jerry Berton of McCormick, S.C., and Tom Berton, formerly of Boardman, who is deceased. They have seven grandchildren and eight great-grandchildren.
Mr. Berton married the former Laura Gibson in 1943 at St. John's Church.
The couple are members of Emmanuel Lutheran Church in Salem.
Mrs. Berton retired in 1985 from the U.S. Post Office in Lowellville, where she had been a mail carrier.
Mr. Berton retired in 1981 from Herriott Trucking in East Palestine, where he worked as a driver. He was a World War II U.S. Marine Corps corporal and is a member of VFW Post 2799 of New Springfield.