Family, friends celebrate 50th of the Johnsons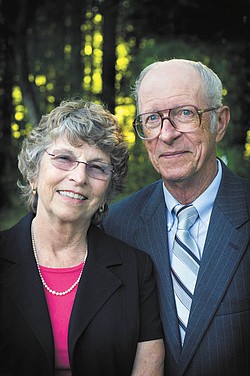 Photo
Mr. and Mrs. Michael E. Johnson
NEWTON FALLS
Michael E. and Carolyn Sue Johnson of Newton Falls were honored for their 50th wedding anniversary at a gathering at their home Aug. 30 through Sept. 2.
They hosted the celebration with their sons, Dr. Michael David Johnson of Martelle, Iowa, and Richard E. Johnson of Forth Worth, Texas.
The former Carolyn Sue Verity married Mr. Johnson on Aug. 17, 1963, at Christ the King University Church, Athens, Ohio. The couple are members of St. Michael Byzantine Catholic Church.
Mrs. Johnson retired in 2000 from LaBrae High School in Leavittsburg, where she was a college preparatory English teacher.
She also is a member of the church Ladies Guild and Friends of the Newton Falls Public Library.
Mr. Johnson retired in 1998 from LaBrae, where he was a biology teacher.
He is a U.S. Army veteran who served as a captain from 1963 to 1966 during the Vietnam War.