Army STEM van stops by Chaney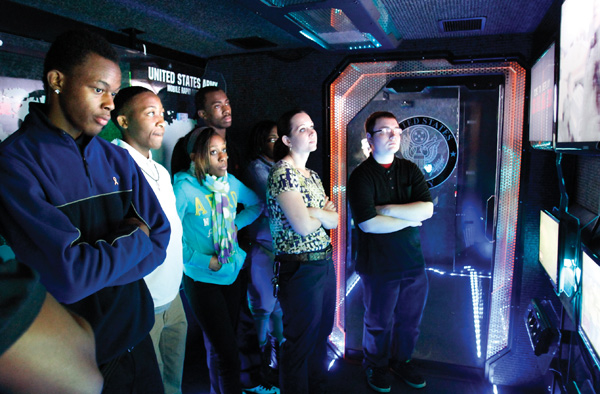 ---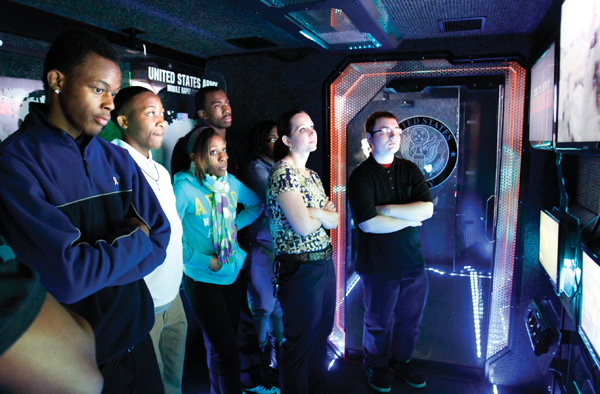 Photo
Students at in the Science, Technology, Engineering and Mathematics program at Youngstown's Chaney Campus, Bryan Moncrief, from left, Omon'dre Moncrief, Sydney McIntyre, Jeremy Woodberry, teacher Carrie Sinkele and Ken Bossick watch a scenario on a screen inside the Army STEM Asset Vehicle, which visited Chaney on Thursday.
By Denise Dick
Youngstown
Ryan McKinney, Tonneiqua Shade and De'Ondre Walker, all juniors in the engineering program at Chaney's Science, Technology, Engineering and Mathematics program did their part to help battle international terrorists.
Through a visit from the Army's STEM Asset Vehicle to the school Thursday, the students participated in a fictitious emergency response.
The year is 2032, and terrorists have invaded European countries and those countries' governments were asking the U.S. for help.
Students watch the news coverage of the aftermath of the attacks, listen to a military briefing about the kind of response required and using computers, the students design equipment for that response.
Sgt. 1st Class Steven Downey said the STEM van, which costs about $800,000, has been part of the Army's recruiting arsenal for a few years. Based in Fort Knox, Ky., the van travels to high schools and colleges throughout the country.
"Everything in the Army is based on science — from the food we eat to the equipment we use," Downey said.
De'Ondre, 16, said the scenario allowed students to experience the latest technology.
"It wasn't easy," he said. "It was a good experience. You had to be fast thinking."
Ryan, 17, and Tonneiqua, 16, also thought it was a worthwhile experience.
"It was a lot of technology," Tonneiqua said.
De'Ondre said students got scored on the exercise too.
"The team that I was on got four stars; that was highest," he said.
Pam Lubich, Chaney STEM coordinator, learned about the Army's STEM van about a year ago when it visited a school in Trumbull County. She emailed, asking to have the van visit Chaney. Earlier this year, she got a return email, asking to come to the school.
Representatives from Youngstown State University's College of STEM and DeVry University also attended Thursday's event as well as Army Capt. Myles A. Frohling Sr. of the recruiting office in Niles; Staff Sgt. James Balog, a 2002 Chaney graduate, of the Warren recruiting office; and Sgt. Keith E. Johnson, Staff Sgt. Christian Gomez and Sgts. First Class Rodney Sims and Brendan J. Fergus, all of the Boardman Recruiting Center.