Spartan boys cross country take district championship title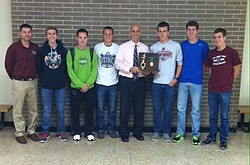 Photo
Neighbors | Submitted .The Boardman Spartan Cross Country Team captured its second consecutive district championship Oct. 19 at the Trumbull County Fairgrounds.
The Boardman Spartan Cross Country Team captured their second consecutive district championship by outscoring second place Twinsburg by 19 points Oct. 19 at a wet and muddy Trumbull County Fairgrounds course.
Senior Mark Hadley was the overall District Champion for the third consecutive season finishing first in a time of 15:23. Classmate Alan Burns was next at sixth overall in a time of 16:02.
They were followed by sophomore Nathan Hadley in 12th place with a time of 16:23 and senior Justin Maroni in 14th overall with a time of 16:30 as well as senior Jacob Kelleck in 19th place in a time of 16:39.
"This was not easy," said Boardman head coach John Phillips. "This was a new district and an unfamiliar course, but we did our job and took care of business."
The Spartans will compete in The Division I Regional Championship at Boardman's home course. The top four teams and top sixteen individuals will qualify for the State Championship; Boardman has not qualified a team to state since 1990.