Military brides say yes to free dresses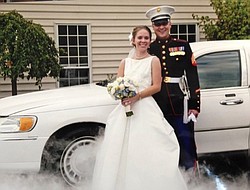 Photo
Neighbors | Submitted .Annie Joyce, with husband Jon, received one of the free designer dresses from Treasure Moments Bridal and Formal in 2011. The couple who is from Boardman is now living in Washington D.C.
Treasured Moments Bridal and Formal will be giving away free designer wedding gowns on Nov. 7 from 10 a.m. to 5 p.m. in honor of Veteran's Day. Brides Across America, a national charitable organization dedicated to providing free wedding gowns for military brides, selected Treasured Moments as one of 20 bridal shops across the country and the only participant within a 3-hour drive. "We are happy to continue our salute to military by joining "Brides Across America" for this fifth annual event that helps military brides to realize their dream wedding." said Lorraine Fulks, owner of Treasured Moments Bridal. "My husband and I can relate to these young couples, remembering the difficulties of planning our own wedding while Mark was in the Air Force," Fulks said.
Due to deployment, timing and economic circumstances, many military brides get cheated out of having their dream wedding. Lorraine and Mark Fulks believe this is a way to "give back" and say thank you to our troops. "The heart-felt appreciation expressed by Military brides, and the look on their faces when they step up onto our mirror surrounded platform is so rewarding. Many admit they would never have been able to have afforded a dress so beautiful," said Fulks.
To qualify, brides must be engaged, be on active duty in the military, or have a fianc on active duty in Iraq, Afghanistan, Qatar, Bahrain, Libya, Kuwait, Korea or Japan. All military brides must show ID, copy of deployment papers, orders or other qualifying proof. Brides do not have to reside in the area where the giveaway is taking place. Each event has a limited number of gowns and the event is on a first-come first-serve basis. It is important for brides to pre-register online by visiting www.bridesacrossamerica.com
The Fulks are expanding this promotion by offering significant discounts on bridal and any other gowns in the store to Military brides who may not meet these guidelines.
Those in attendance will also enjoy refreshments. This event is in addition to the annual "After Thanksgiving Sale "on Nov. 28 and 29 where designer gowns and dresses are available at close-out pricing.
For more information please call Treasured Moments Bridal and Formal at 330-726-9144 or checkout bridesacrossamerica.com.