St. Vincent-St. Mary too tough for Ursuline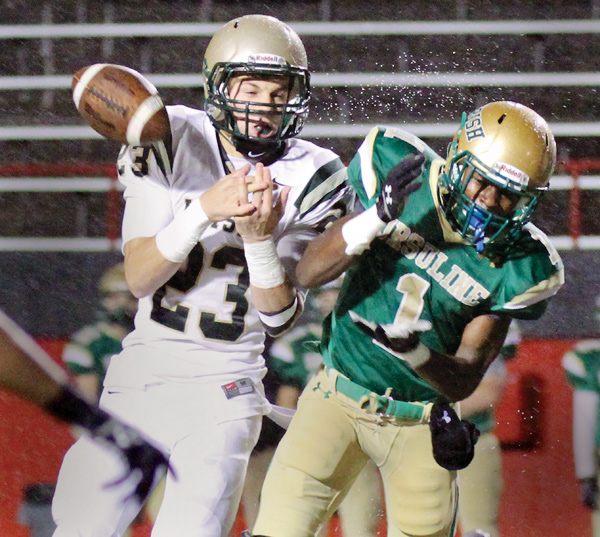 Photo
Ursuline's Ben Phillips (1) and Akron SVSM's Nathan Bischof (23) battle for a pass during the first quarter of Thursday's game at Stambaugh Stadium. SVSM won 40-7.
Akron st. Vincent-St. mary prevails over Ursuline
By TIM CLEVELAND
YOUNGSTOWN
For the first half of its game Thursday night, Ursuline was hanging tough with Akron St. Vincent-St. Mary. The Irish only trailed by 12 points at intermission, having recovered a pair of fumbles by the state's defending Division III champions in rainy weather.
But in the first eight minutes of the third quarter, things fell apart for Ursuline, as it allowed three touchdowns that allowed SVSM to pull away for a 40-7 victory at Stambaugh Stadium.
"It affected both teams," Ursuline coach Larry Kempe said of the weather. "I thought St. V's handled it better than we did. It comes down to us having to control the football, hold on to the football and then we have opportunities to make tackles.
"There's a reason why they're 10-0; because they're a good football team."
SVSM (10-0) got the third quarter off to a quick start as Parris Campbell returned the opening kickoff 80 yards for a touchdown just 13 seconds into the half.
"We took advantage of some breaks," SVSM coach Dan Boarman said. "Parris breaks the first one off tackle and it makes you look like a great football coach."
Ursuline (4-5) fumbled the ensuing kickoff, which was recovered by Tyler Moran at the Irish 21. After a holding penalty moved the ball back 12 yards, Moran caught a 33-yard scoring pass from Aaron Bushner for a 33-7 lead with 11:27 left in the third.
After an Ursuline punt, SVSM took the ball on its own 25 and marched 75 yards in 11 plays, taking 6:05 off the clock. Vince Lockett had 48 yards during the drive and finished with 128 yards on 21 carries. Joe Faetanini finished the drive from 5 yards out for the final margin.
"That's bothersome right now with me," Kempe said. "We came out, first play the kid goes 80 yards. I looked at some things as that play was progressing I didn't like. Then we don't field the kick, which is inexcusable. Those are things that you work on every day and should be handled correctly."
The weather had a negative impact on both teams, mainly in the first half. Each team lost three fumbles, which were the first three all season for SVSM. Ursuline scored its only touchdown off a SVSM fumble, as Campbell fumbled on his own 12. Five plays later, Chris Durkin scored from the 3 to tie the game at 7 with 10:07 left in the first half.
Despite the fumble, Campbell led his team with 130 yards on 12 carries. SVSM rushed for 407 yards as a team, compared to just 43 for Ursuline.
"We knew with the weather conditions we were going to run the football tonight," Boarman said. "I think it was obvious that was what we had to do. I think that's been our bread and butter all year."
Ursuline entered Thursday seeded fifth in Division V, Region 15.
Kempe said he's not certain the Irish will even make the playoffs.
"Now we have to sit and wait," he said. "We probably won't find out until Sunday; either way, if we're continuing we have to get a lot better, and if not we'll collect the uniforms."