Information Technology program receives an upgrade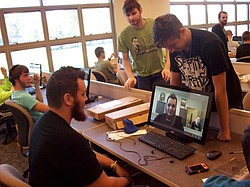 Photo
Neighbors | Submitted .Ryan Kelly tried out the camera feature on the new computers while Justin Burnett and Justin Campanelli look on.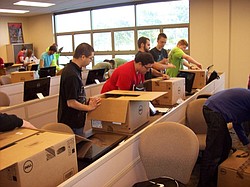 Photo
Neighbors | Submitted .Geoffrey Forester, John Sandberg, Nathaniel Bair, Mike Bostko and Keith Davis set up new computers in the IT classroom at MCCTC.
The scene in Steve Bennett's Information Technology classroom at the Mahoning County Career and Technical Center was reminiscent of Christmas morning. Boxes were being opened, paper was falling to the floor and the room was buzzing excitement.
But these weren't your typical toys the students were unwrapping. This day, the students received brand new computer work stations for their lab. In all, the program received 26 new Dell touch screen computers running on the latest version of Windows 8 software.
"The whole idea behind this computer model is an enhanced experience. Everyone is used to touch screens now with cell phones and tablets so we're introducing an idea that people are already familiar with and applying it to the classroom experience," said Bennett.
The new computers will allow for a much more intuitive and productive experience for the students. From being able to transfer your handwriting into text to being able to stand at your computer station and work, these computers represent some of the latest technology and trends available.
"These computers are a heavier duty computer designed for a real office environment so they will suit our needs well," said Bennett. He worked alongside MCCTC Technology Supervisor Bill Long to identify the best technology for the program's needs.
But before they could enjoy the new equipment, the students first had to take down all of the old stations, unpack the new ones and set them up. And then the real fun began.
"I really like the accessibility of it," said Keith Davis a senior from Austintown. "I think this will keep me more focused in class because of the tools it has."
David Jolliff was impressed with the new, engaging experience.
"I was skeptical at first, but I am liking it so far. It'll make things more fun and the touch screen will allow you to move faster," Jolliff said.
In addition to setting up the lab, the students will also troubleshoot any problems when they arise.
"It will take about 30 days for us to shake out any problems, but the students will work with Dell support services to find the right solutions," Bennett said.
For more information, contact Jacqueline Kuffel, career development supervisor, at 330-729-4120. To learn more about MCCTC, visit us online at www.mahoningctc.com.