Fellows Riverside Gardens unveils painting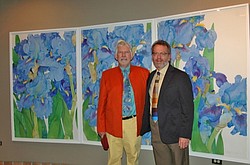 Photo
Neighbors | Submitted.Gary Bukovnik (left) with Keith Kaiser (right) at the unveiling of "Fellows Riverside Gardens Iris" Oct. 10.
By ADRIENNE CRISSMAN
Fellows Riverside Gardens unveiled a new painting for their collection Oct. 10 at the Davis Center.
The painting, "Fellows Riverside Gardens Iris," is a work of Gary Bukovnik. The painting was a specially commissioned large-scale painting for Fellows Riverside Gardens, which was funded through Friends of Fellows Riverside Gardens. It hangs in the radius room with two other Bukovnik paintings.
Keith Kaiser, horticulture director said the piece finishes off the room nicely.
"It's exciting we have a permanent piece to hang here," said Kaiser.
Bukovnik, who lives in San Francisco, explained his inspiration behind the painting.
"I love Iris, it represents Ohio to me in a lot of ways," said Bukovnik.
Bukovnik has used Fellows Riverside Gardens as inspiration for many of his paintings.
"People in Youngstown aren't aware of what special they have in the gardens," said Bukovnik. "The facility is first class, any city would be thrilled to have a facility like this."
Mugs, ties and notecards with the print "Fellows Riverside Gardens Iris" are now available for purchase at the shop, located inside the Davis Center.
Bukovnik's exhibit is now on display in the Weller Gallery in The Davis Center through Nov. 10.