Elementary students get unique music lesson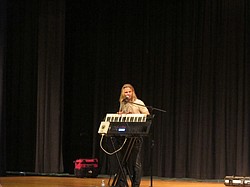 Photo
Neighbors | Adrienne Crissman .Brent Daniels talked to Dobbins and North elementary students on Sept. 26 about music technology.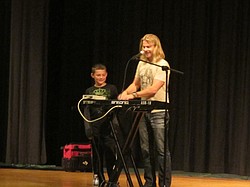 Photo
Neighbors | Adrienne Crissman.North Elementary student Jeffrey Muslovski was selected by Brent Daniels to help make music during the music technology assembly Sept. 26.
By ADRIENNE CRISSMAN
Dobbins and North Elementary students danced and learned at the same time Sept. 26 at Poland Seminary High School.
Brent Daniels, an award-winning composer, producer, sound designer and recording artist, presented Music Technology, a show that, according to his website, is "designed to show students some of the fundamentals of modern electronic music production and sound design."
In addition, the assembly is designed to "show students the important relationship between the technology they have in their classrooms and the creation of the music and sounds they hear on their iPods and on TV, in movies and video games."
Daniels explained to the students why he does the Music Technology shows.
"The reason I do this show is because its important to get education in different ways," said Daniels. "This is the combination of all the basic skills I learned when I was in school."
Daniels selected different students from the audience to help him make different sounds that eventually were put together in an original song.
Carson Maurer, a third-grade student at Dobbins Elementary, said he learned a lot about different sounds.
"I learned that you can make songs out of random sounds," said Maurer. "I also like that you can make different sounds using a machine."
For more information on Brent Daniels and his music technology assemblies, visit http://brentdanielsmusic.com/.