Animal-rescue facility in Struthers expands to meet demand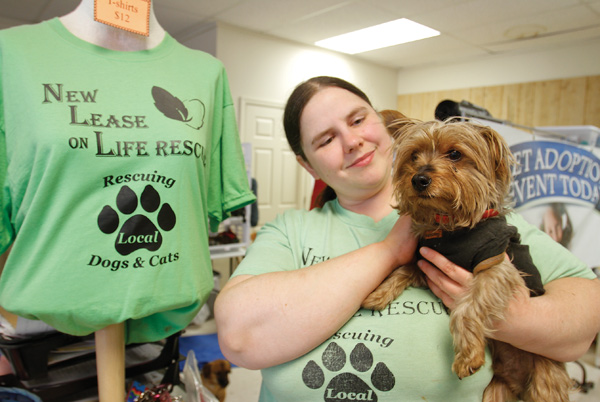 ---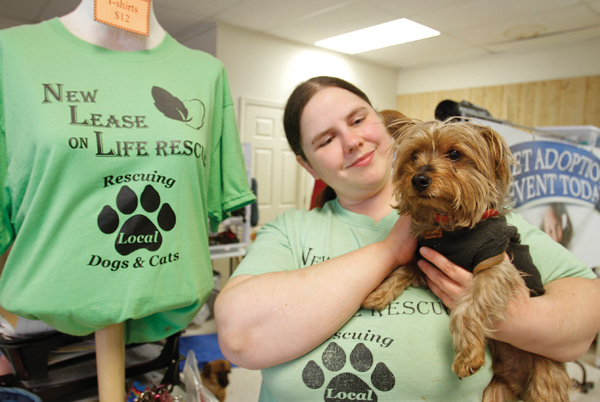 Photo
Maria Guyan of Struthers, a lifelong animal lover and rescuer, started New Lease on Life Rescue on Midlothian Boulevard in Struthers in 2010.
By EMMALEE C. TORISK
etorisk@vindy.com
STRUTHERS
When Darla Donahue began volunteering for 12 hours a week at New Lease on Life Rescue, she was unemployed and in the midst of severe depression, searching for something to do with her extra time.
Two years later, Donahue, of Youngstown, is now a full-time employee of the rescue. Helping dogs and cats who were surrendered by their owners, or who were next on the euthanasia list at local pounds, also helps her.
"It's actually my therapy," Donahue said. "It doesn't matter what they've been through. They are so forgiving, so full of love, and so happy to see you."
About 50 dogs and cats are now housed at New Lease on Life Rescue, which just last week expanded into its newer and bigger space at 2773 Midlothian Blvd., only a few storefronts down from the original location.
With more animals going in and out of the rescue, the move was a necessity, said Maria Guyan of Struthers, a lifelong animal lover — and rescuer — who started New Lease on Life Rescue in 2010. In those three years, the rescue has facilitated more than 1,300 adoptions — with the number of adoptions consistently increasing each year.
With the new adoption center, they'll likely double, Guyan added.
The center, about halfway done, will include two cat rooms constructed in the building's large front windows, spacious indoor dog kennels, and a training center, which will offer an assortment of classes to help owners better understand their pets.
Significant, too, Guyan said, is the rescue's expansion of its public adoption hours, from 12 to 36 hours per week. New Lease on Life Rescue is now open Monday through Saturday from 1 to 7 p.m, Its Facebook page is frequently updated with descriptions and photos of adoptable dogs and cats.
Just a sampling of those are Zeus and Lumpy, two Redbone coonhounds who were among the 20 out of 60 dogs seized from a hoarder's residence; or Bumblebee, a special-needs cat who almost died from complications related to a severe eye infection.
"We have all different sizes and shapes and colors [of animals]," Guyan said. "There are so many in this area that are homeless. We have new ones almost every day."
Though the rescue doesn't typically take in stray animals, it does acquire them from county dog pounds, from referrals from other area rescues, or from owners who simply can't — or don't want to — keep their pets any longer.
Dogs and puppies can be adopted for $200. Kittens less than 6 months old can be adopted for $70, while adult cats can be adopted for $50. All have been spayed or neutered, as well as vaccinated and microchipped. They come, too, with a two-week health guarantee and a lifetime-return guarantee.
At New Lease on Life Rescue, both dogs and cats are kept in the same room — or "cross-socialized," Guyan said. And because she, Donahue and the rescue's volunteers work so closely with the animals, they have a good idea of each animal's temperament and can easily match up the animal with a prospective owner.
Every morning, for example, Donahue greets each animal by name, taking time to hug and pet them. She just can't help but be passionate about her work, but admitted that running a rescue with only two full-time employees — herself and Guyan — is sometimes a challenge.
"We try to do as much as we can, but we are so small," Donahue said. "We need help."
Guyan added that volunteers are always welcome — for cleaning, for dog walking, for grooming. All ages may volunteer, although those under 18 must be accompanied by an adult.
On a recent weekday, Donahue's 9-year-old daughter, Kiersten Oliver, and her friend, 11-year-old Analyse Cole, stopped by the rescue, as they often do to take out the trash, mop the floors and clean cat furniture, among other tasks.
"I like taking care of the animals, and I like to walk dogs," Analyse said. "I like all of the dogs here."
For more information about New Lease on Life Rescue, call 330-397-8270, or visit the New Lease website.