Salvation Army honors volunteers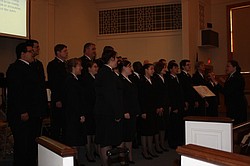 Photo
NEIGHBORS l EMILY GIANETTI.In addition to playing instruments, the Pendel musicans sang for the audience at Tabernacle Evangelical Presbyterian Church May 3.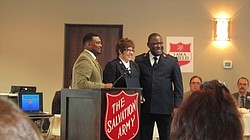 Photo
Neihgbors | Emily Gianetti.Majors Elijah and Valerie Kahn accepted a declaration naming May 15 as "Salvation Army Day" in Youngstown at the 2013 Annual Salvation Army Civic dinner at the Lake Club in Poland. The honor was conferred by the Youngstown Mayoral Office's Chief of Staff, Demaine Kitchen.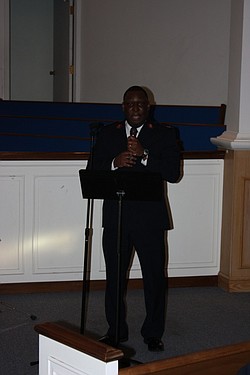 Photo
Neighbors | Emily Gianetti.Major Elijah Kahn welcomed everyone to the concert and thanked them for their support at the Pendel Brass and Singers performance May 3 at Tabernacle Evangelical Church.
By EMILY GIANETTI
Throughout the year, the local Salvation Army receives help from the community through volunteering and fundraising, and for one week in May it has the opportunity to thank those who help.
In celebration of National Salvation Army Week, running May 13-19, friends of the organization attended the Salvation Army Civic Dinner on May 15 at the Lake Club in Poland and the Pendel Brass and Singers performance on May 3 at Tabernacle Evangelical Presbyterian Church.
The dinner is offered annually to thank supporters of the Salvation Army, to give an update on the use of the year's resources and to present awards.
This year, Fred Stillwagon received the OTHERS Award for exemplifying service to others while Gus Giannios and the General Motors Lordstown UAW Locals 1112 received the Distinguished Community Service Award.
"They help us serve so many people with love and compassion," said Major Elijah Kahn, a local coordinator. "We just want to express appreciation to the community for all their support."
The Pendel concert was another way of giving thanks, Kahn said. The group, made up of volunteers from Eastern Pennsylvania and Delaware, performs by invitation around the eastern United States.
"The concert was incredible," said Kahn. "It was phenomenal to watch the Pendel Singers showcase their talents and God-given gifts. It was a sight to behold."
The group performed a variety of songs, from Beethoven and Chopin to a square dance. A freewill offering was taken and several local churches were honored for helping the Salvation Army during the year.
"Sometimes we take for granted the support people provide," said Kahn. "It means so much to say thank you. Those two words mean a lot, to let people know that they are making a difference in their community."
More like this from vindy.com