YSU will lead manufacturing resurgence with grant from Siemens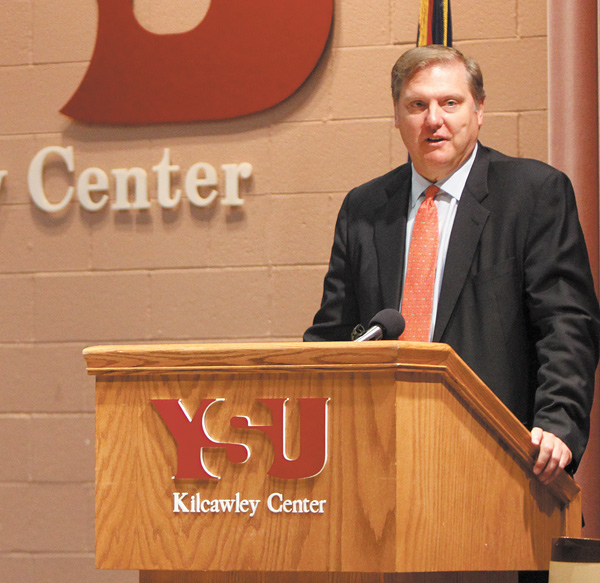 ---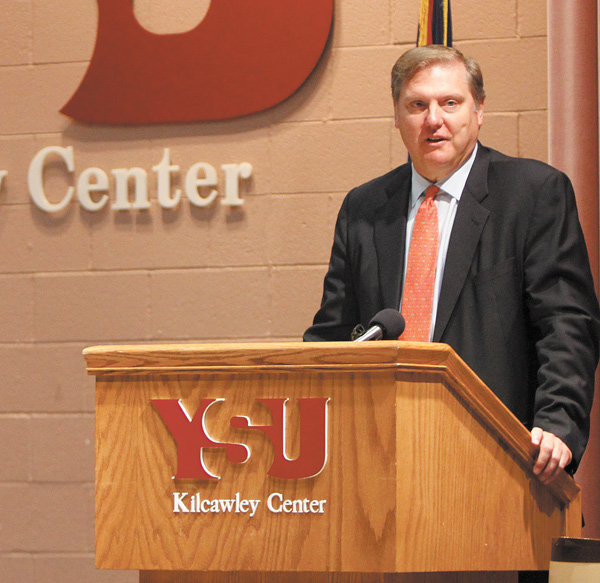 Photo
Eric Spiegel, president and CEO of Siemens Corp., speaks Thursday at Youngstown State University during an announcement of Siemens' $440 million in-kind grant for the Science, Technology, Engineering and Mathematics College.
By Denise Dick
Youngstown
The next industrial revolution in the United States is going to be around additive manufacturing, and Youngstown State University and the new National Additive Manufacturing Innovation Institute will help drive it, Eric Spiegel, president and CEO of Siemens Corp. said.
Spiegel was speaking Thursday at the university during an announcement of Siemens' $440 million in-kind grant to YSU for its Science, Technology, Engineering and Mathematics College.
The grant is for state-of-the-art product lifecycle management (PLM) software and training.
Spiegel is a Mahoning Valley native, graduating in 1976 from Poland Seminary High School.
"Both of my great-grandfathers came to Youngstown from Germany, and both of my grandfathers worked in the steel mills," he said.
The CEO met his wife, Doreen, while she was working in the football program at YSU, and the couple's wedding reception was at the former Wick-Pollock Inn, which is now the YSU president's residence.
"My great-grandfathers and my grandfathers, my father and mother would be proud to see this day," Spiegel said.
The PLM software — which also is used by NASA, Ford, Nissan, Calloway and Lockheed Martin — will be used to help educate students and prepare them for careers in fields from robotics design to computer-aided engineering and additive manufacturing, across many industries.
He sees a skills gap between the jobs available and the skills of those available to fill them.
"It's imperative that companies like Siemens and universities like Youngstown State and governments play a role in closing that training gap," Spiegel said.
Helmuth Ludwig, CEO of Siemens Industry Sector in North America, said it's amazing how technology is helping to evolve the U.S. technology landscape.
"Laptops and iPads are used instead of screwdrivers," he said. "It's not your grandparents' or your parents' manufacturing."
YSU, its STEM College and NAMII are poised to be at the forefront of that manufacturing renaissance.
YSU President Cynthia E. Anderson, who presented Spiegel with a YSU Penguins football, said Thursday was a historic day for the university.
When YSU created its STEM College a few years ago, university officials hoped to develop partnerships with industry.
"I'm not sure any of us thought we'd have a partnership of this magnitude at this early stage," Anderson said.
With the software, the university's Ph.D. program in materials science and engineering and NAMII within walking distance, "YSU becomes a destination university for students seeking advanced manufacturing, materials and engineering degrees," she said.
The software is a component of NAMII's effort to prepare a modern workforce in the Cleveland-Pittsburgh TechBelt and throughout the country. NAMII is located downtown.
Martin Abraham, dean of YSU's STEM College, said the software will allow students to learn the latest technology.
"Companies will now be coming to YSU to recruit our students, looking for them," he said. "Today YSU becomes a global leader in engineering education."
U.S. Rep. Tim Ryan of Niles, D-13th, said Spiegel is a reflection of the community.
"Thank you for not forgetting where you came from," he said.
When Ryan, representatives from the Youngstown/Warren Regional Chamber, YSU and others several years ago began talking of Youngstown as a "tech belt," many doubted the possibility, Ryan said.
"This community is on the move," he said. "This is a great start."
But it's just the beginning, Ryan said.
"We're leading the next industrial revolution, which is going to happen with advanced manufacturing," he said.
U.S. Rep Bill Johnson of Marietta, R-6th, said he doubts people realize now the significance of the grant and the changes that are happening.
"Today is just the beginning of the tremendous opportunity for our region," he said.