Local cooperation lauded at launch of Austintown's racino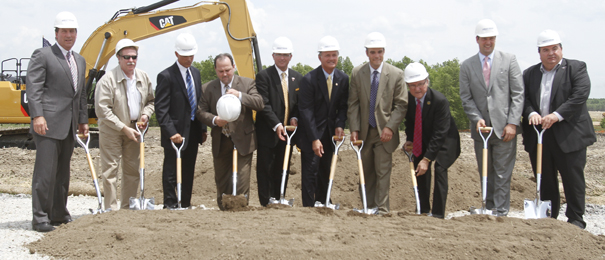 ---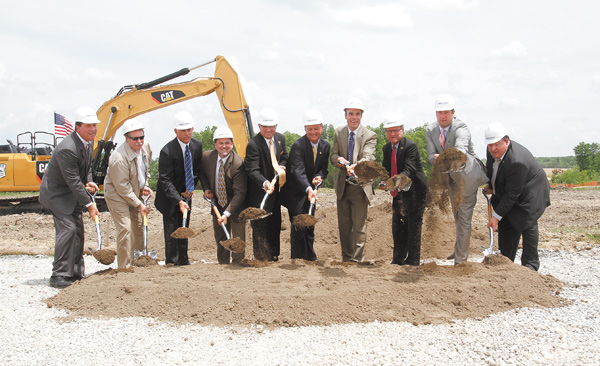 Photo
Celebrating the beginning of work at the Austintown racino site are, from left: Tim Wilmott of Penn National Gaming; state Rep. Tom Letson of Warren, D-63rd; Don Crane, president of the Western Reserve Building and Construction Trades Council; Mahoning County Commissioner David Ditzler; Austintown Trustee Jim Davis; state Rep. Ron Gerberry of Austintown, D-59th; Eric Schippers, Penn National senior vice president of public affairs; state Rep. Robert Hagan of Youngstown, D-58th; U.S. Rep. Tim Ryan of Niles, D-13th; and Mahoning County Commissioner Anthony Traficanti.
By LEE MURRAY
TheNewsOutlet.org
AUSTINTOWN
The $125 million Hollywood at Mahoning Valley Race Course promises 1,000 construction jobs and an additional 1,000 permanent jobs when it is completed next year.
Politicians, elected officials, community leaders and business people gathered Thursday at the site off state Route 46 for the formal "racino" groundbreaking.
Standing on the rocks and stone, speakers and guests put shovels to dirt. But behind them, heavy equipment already was working on creating the actual foundation of the site.
"We're pushing dirt already," said Jason Jones, general manager of Cleveland-based construction manager Turner Construction. "We've been going for a couple of months now. Progress is going very well. We're right on schedule."
"There's a dozen [people] out there now excavating with more to come with the other contractors," said Carlton Ingram of the International Union of Operating Engineers in Youngstown. Ingram said the construction work at the racino will spur more developments in his trade and in others.
"There will be spin-off jobs. This is going to be the anchor for the area with other substantial developments like hotels and restaurants," Ingram said. "It's like we have a second chance. If you know anything about the Valley, it's that we don't quit. We're coming back."
"We are cutting the ribbon for progress in the Mahoning Valley," said state Rep. Robert Hagan of Youngstown, D-58th, one of the first to put a shovel in the dirt. Hagan said the concerted efforts of businesses and politicians have brought the project to this point.
"There are opportunities that have existed here for many years, but because of collaboration, we're bringing it together," Hagan said.
The project, at Austintown's Centerpointe Business Park, will bring gaming and thoroughbred racing to the Mahoning Valley when it opens in 2014, featuring a video lottery terminal facility and a one-mile state-of-the-art racetrack.
U.S. Rep. Tim Ryan of Niles, D-13th, said locally elected officials at the township, county and state level were integral to the success of the project.
"We have a lot of small things done very well. This day is the natural extension of us all working together," said Ryan.
Ryan added that the racino is part of a larger effort to revive the Valley.
"We don't have all our eggs in one basket. It's the racino, it's additive manufacturing, it's energy, it's research," said Ryan. "But this racino has more buzz about it in our community than anything else."
The art deco concept at Hollywood at Mahoning Valley Race Course will be similar to Hollywood casinos in Columbus and Toledo.
The racetrack grandstand will feature more than 1,000 enclosed, climate-controlled seats with racetrack views, a wagering facility, and food and beverage options.
In addition to the $125 million in construction costs, Penn National will pay Ohio a $50 million fee for its video lottery terminal license and an additional $75 million it agreed to pay for permission to relocate the racing license for its existing Beulah Park racetrack in Grove City, bringing the company's total investment to $250 million.
"It's a $75 million address change," said Tim Wilmott, chief operating officer of Penn National. Wilmott said the demographics of the Mahoning Valley suited Penn National's market assessment.
"We viewed this population as an underserved market in the state of Ohio," said Wilmott. "So that's why we felt very confident relocating here."
Legislation approved in 2012 will provide Austintown Township with $1 million in local impact funds in each of the facility's first two years of operation, and local governments in the region will benefit from additional local income and property-tax revenues.
"The jobs and business opportunities we'll be creating here ... will have a long-lasting, beneficial impact on this community and this region. It is the beginning of what we foresee as a new era of economic development for the Mahoning Valley," added Wilmott.
Austintown Trustee Jim Davis said the ceremony marked a great day for Austintown.
"Austintown always seems to get pushed aside when it comes to projects. For once, Austintown is finally being recognized for the great community it is," said Davis.
"People are getting excited to have a place to go. This is just the beginning of many great things to come," he added.
"We worked on this project for a long time. It's great to see it come to fruition," said David Ditzler, Mahoning County commissioner and former township trustee. "Whenever I see anyone anywhere, the question that comes to me is, 'When are we opening the racino?'"
TheNewsOutlet.org is a collaborative effort among the Youngstown State University journalism program, Kent State University, University of Akron and professional media outlets WYSU-FM Radio, The Vindicator, The Beacon Journal and Rubber City Radio, both of Akron.