Small ball, but big inning for Mooney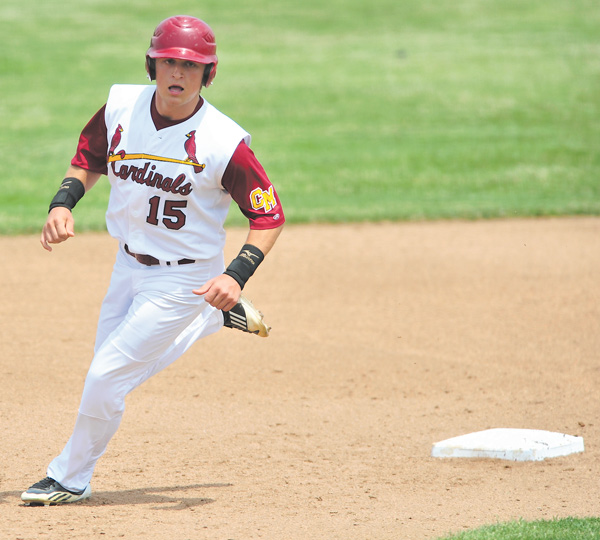 ---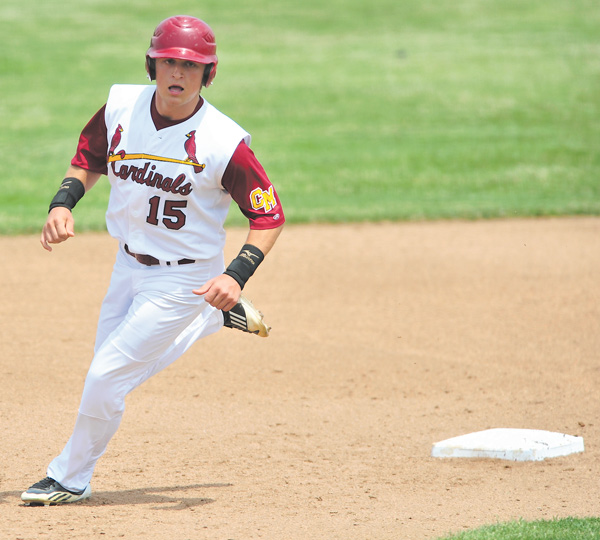 Photo
Cardinal Mooney's Denver Martin trots around the bases after he hit a home run during an 8-4 victory over Canton South on Thursday.
By Joe Scalzo
HUDSON
Fresh off his first home run of the season, Denver Martin smiled at teammate Drew Delsignore and said, "Warning track power."
"Yeah, I've been hitting the warning track all year," said Delsignore, who has hit 10 balls off the wall but has yet to hit one over. "He finally hits a home run and he won't shut up about it."
Those two combined for three extra-base hits in Thursday's 8-4 win over Canton South in the Division II regional semifinals at The Ballpark at Hudson, but it was the Cardinals' small ball that did the most damage.
The Cardinals scored seven runs in the bottom of the fifth inning thanks to six singles, a double, two sacrifice bunts (one that led to a throwing error), a wild pitch and a sacrifice fly.
"We've played small ball all season," Mooney coach Al Franceschelli said. "After we had reached 5-4 [record] during the season, we changed our whole format to get these kids to move runners around, to play for the run and not look for the big inning.
"Playing for the run leads to the big inning. The bunt is a crucial part of this game, especially at this level. You can't expect to get seven runs in an inning. We were fortunate this time."
Mooney trailed 2-1 entering the fifth — Martin's second-inning homer was the lone run — when Harrison Wagner led off with a single and moved to second on a wild pitch. Christian Lowery followed with a bunt that seemed to surprise South, leading to an errant throw that put Lowery on second and scored Wagner.
Ryan Megyesi followed with a bunt and Gino DiVincezno hit a sacrifice fly to score Lowery.
Then the floodgates opened. Jon Saadey singled, Delsignore doubled and Drew Beck, Dom Dundee, Martin and Wagner each followed with singles to make it 8-2.
"I didn't feel comfortable with [seven] runs," Martin said. "I felt we should have got more."
South (24-5) scored two runs in the sixth thanks to four Mooney walks but went in order in the seventh, sending the Cardinals to today's regional final against Akron Hoban (19-10).
Mooney has never won a regional baseball title.
"We're not really looking at just one game," Delsignore said. "We're looking at the whole thing. We know we have a good-enough team to go all the way."
Kane Durkin (6-1) went five-plus innings to get the win for Mooney, giving up six hits while striking out five and walking four. While the Cardinals typically like a 60/40 mix of fastballs and off-speed stuff, Franceschelli switched it to 40/60 to stymie South's fastball-loving lineup.
"This team [South] beats the crap out of the ball and we weren't going to feed them a lot of fastballs," he said. "[Kane] has got guts, I gotta tell you. He's a tough, inner-city Youngstown kid. He's not giving up. He's not afraid to pitch inside.
"We've had battles when I've got to pull him, but I win."
Gino DiVincenzo, who pitched Mooney to the district title against Struthers last week, will likely get the start today. Although the teams didn't play this season, Mooney is 4-2 against Hoban since Franceschelli arrived in 2007.
"We've just got to take it like every other day," Martin said. "It's just baseball. Don't let the hype get to your head."