Commencement is sunrise and sunset, Howland grad says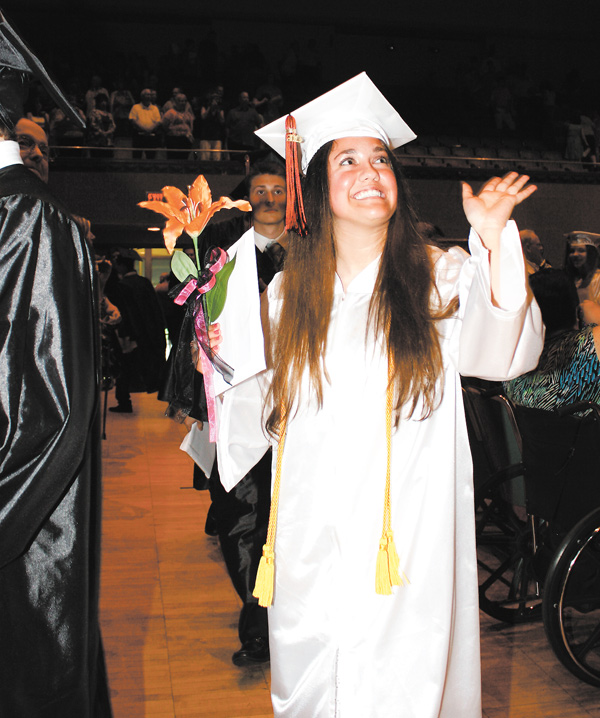 ---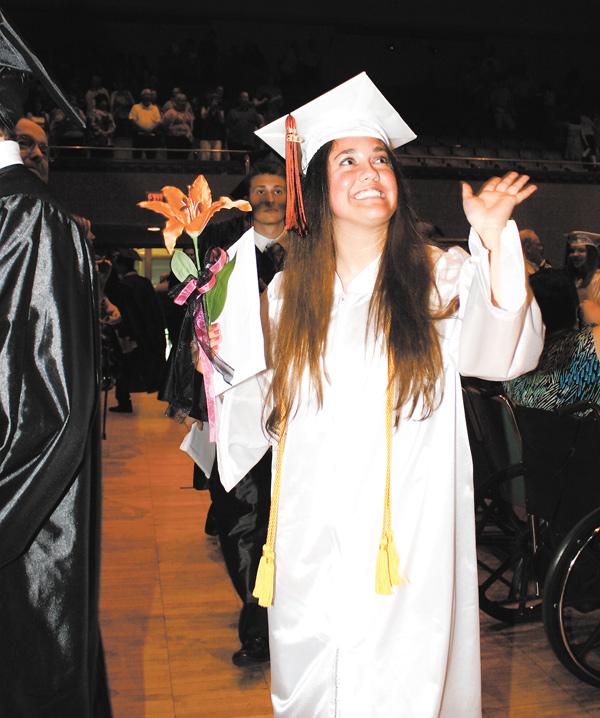 Photo
Selina Nuzzi waves as she leaves the stage area with her classmates after commencement ceremonies ended for Howland High School on Thursday night at Packard Music Hall.
By Ed Runyan
WARREN
High school commencement is a sunrise — "a new day and a fresh start, so even if you make a mistake the sun will rise again, giving you the option to turn an obstacle into an opportunity," said Jennifer Knapp.
It's also a sunset, she said, during her speech Thursday at Packard Music Hall for Howland High School's commencement ceremonies.
"As for the sunset, let it become a chance for you to reflect on all the knowledge we have gained and all we have accomplished. Personally, I'm so proud of what we have done, and I'm so excited to see what we will achieve."
Knapp was one of two graduates chosen by their peers to be commencement speakers.
Dr. Kenneth Jones, president of the Howland Board of Education, said commencement changes a young person's role in the world, pointing out how thirsty they were for knowledge when they first began school because they had so much to learn.
"Class of 2013, look behind you. Close behind you are your teachers. Behind them are your family. You are now the ones in front, poised to move on, for commencement is a beginning ... and it's your turn to lead.
"It's your turn to inspire us. It is your time to look behind you and say, 'Follow me.'"
After the 221 graduates had received their diplomas and filtered out into the picture-perfect evening, several students talked about their plans and hopes for the future.
Lexie Cline plans to study forensic science so she can help solve crimes like the character "Abby" from the television show "CSI." She also thinks her life would be more exciting in a bigger city.
"I'm excited to be going on to the next step," she said.
Nalesia Elkins, who's going to study child psychology in college, said she really likes the thought of learning "what makes people tick."
"I'm pumped," said Manoli Magiassos, whose plans include becoming a nurse anesthetist. "I just finished high school. It's an awesome feeling."
Aliyah Bryant, who's going to attend the University of Toledo and study psychology and Spanish, said she's "super excited to move on."