Six softball teams in regionals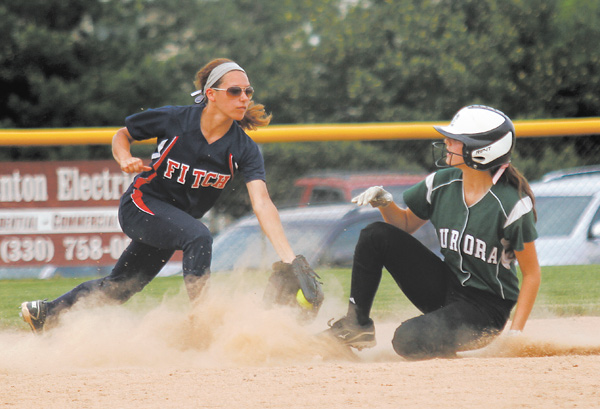 ---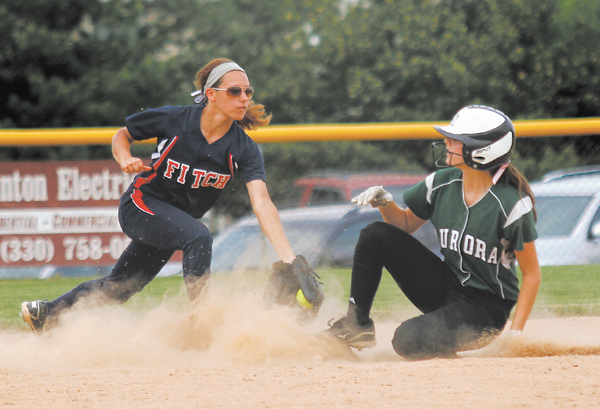 Photo
Austintown Fitch's Cali Mikovich, left, tags Aurora's Nicole Doyle out at third base during a Division I tournament game on May 22 at Fields of Dreams in Boardman. The Falcons' 5-2 victory clinched their first regional berth since 2005. Fitch will meet Medina in a regional semifinal at 5 p.m. Thursday at the University of Akron.
By Tom Williams
Austintown Fitch High junior Gabby Butcher was refreshingly honest about her softball team's recent performances after a 5-2 victory over Aurora in the Division I district championship game.
"If you had asked me at the beginning of the season, I would not have had high expectations for this," said Butcher who hit one of the Falcons' three homers against Aurora. "I would have said, 'We're going to do well, but I don't know how well.
"And looking at us now, we really have potential," Butcher said. "We could do anything — this is so awesome, winning districts.
"It's honestly such a blessing that I am with this team."
Butcher was talking about the Falcons (20-8) who use a freshman pitcher (Alex Franken) and start just two seniors (outfielders Alana Callahan and Katee Sweeney).
But she could have been talking about three other softball teams who have qualified for this week's regional games — Canfield (18-8), Ursuline (20-9) and LaBrae (17-8-1).
Two other teams — Jackson-Milton (21-8) and Mathews (22-7) — are making return appearances to the Division IV regional at Kent State University.
It's going to be a busy week of softball for six Mahoning Valley teams.
Canfield (18-8) is making its first trip to the Division II region since 2008 when the Cardinals, coached then by Ronie Haurin, won the state title.
"I was at the game," said Cards senior pitcher Abby Baker (15-7) of Canfield's 6-0 win over Celina. "[The players] actually came to our school and we all wrote letters for them. It was really cool.
"And now to be a part of that experience is really fun," Baker said. "To play in Akron means you're one of the best teams in Division II and that feeling alone — win or lose — is priceless.
"You can't beat it."
The Cards never had a chance to defend their Division II crown because Canfield moved up to Division I for the next three seasons.
Last year, Canfield went back to Division II and lost three times to Poland, including the district title game. Poland made its third straight trip to state in 2012 after winning the title in 2011 and finishing runner-up in 2010.
This year, the Cards won three times against the Bulldogs, including 4-0 in the title game at Alliance High.
"It's a great accomplishment," said Canfield coach Ray Melewski who replaced Haurin last season. "When they beat them the first time, that was the monkey off their back.
"All these kids had never beaten Poland," Melewski said. "Then they beat them a second time. To beat a good time like this three times is really difficult.
"The seniors came through, they all stepped up, every one of them. We hit the ball when we needed to."
Next up — a trip to Akron.
"It's huge," sophomore shortstop Rachel Tinkey said of today's game against Navarre Fairless at Firestone Stadium. "We knows what it feels to be on the other side.
"We've worked so hard for this moment," Tinkey said. "The seniors have been such great leaders bringing us here. It's really a tribute to them."
Canfield's other seniors are center fielder/cleanup hitter Kayley Keller, right fielder Sydney Opladen and second baseman Alexa Schmidt.
"The atmosphere there is just amazing," said Tinkey of playing at the site of the state tournament. "You've got a huge stadium, big crowds. It's going to be awesome there. It's just a privilege."
Among others, Tinkey and Baker understand the pressure of playing in a regional. They were key members of Canfield's girls basketball team that played in the last two regional tournaments in Barberton.
"It's hard to rank this one." said Baker of comparing the basketball district titles to her latest. "Softball has been my whole life. Softball has a special place in my heart because I've been playing forever," Baker said. "Especially to get to pitch with this team. These girls are awesome — this meant a lot."
Also today, Mathews will play Cuyahoga Heights in the Division IV regional at Kent State. The Mustangs, who finished state runners-up last June, have every starter back and won't surprise anyone.
"People underestimated us because we're such a small school and they didn't expect us to make it that far because we didn't have an undefeated season," senior third baseman Jacki Rhine said of 2012. "But us making it as far as we did put a really big target on our backs."
Nobody is more anxious to play the Mustangs than Jackson-Milton. Last May, the Bluejays lost to the Mustangs, 5-3, in the regional semifinal.
It could happen. First, Jackson-Milton must defeat North Robinson Colonel Crawford in Thursday's semifinal game.
The Bluejays' seniors include catcher Caitlyn Carney and pitcher Paije Kiraly (21-8) who bat third and fourth. The Bluejays advanced by outslugging Mineral Ridge, 17-14, in the Lisbon district final.
Also playing on Thursday will be Fitch. Originally, the Falcons' semifinal at the University of Akron was to be played today. But a graduation conflict at Solon prompted tournament officials to play the Mentor-Solon game today and the Fitch-Medina (22-7) game on Thursday.
It's the Falcons' first regional game since 2005, Melody Ward's first season as head coach.
"I believe there is something very special about this team," Ward said. "I would call them a team of destiny.
"We may not be the biggest team nor the most talented team out there, but we are a group of hardworking girls who have such a strong desire to win."
The Falcons have had some surprising contributions to stay alive. Against Kent in the opening tournament game, the Falcons trailed 2-1 in the sixth inning then rallied for three runs. Butcher drove in the game-winning run with a two-out double.
Against Aurora (22-2), junior second baseman Cali Mikovich hit two two-run homers. They were the first over-the fence homers she had ever hit at any level.
"We are definitely proud of Cali," Ward said. "At the beginning of the season, we had her dropping little tiny drag bunts and she was running it out utilizing her speed.
"Towards the end of the season, we started using her as a hitter and they don't expect that from her," Ward said. "That works to her advantage, just the power that comes out of her. The way that she can drive the ball is just amazing."
Mikovich is excited to still be practicing.
"It feels amazing," Mikovich said. "We have something so special and we need to keep it going because we really have the talent, too."
Ursuline advanced to its first regional in four years when the Irish stung South Range, 2-1, in the nine-inning Division III district title game. In 2009, the Irish were state runners-up, losing 5-0 to Hebron Lakewood in the championship game.
Michael Kernan's Irish will take on Demetra Noble's LaBrae, winners of the Jefferson district thanks to a 4-3 victory over All-American Conference National Division rival Champion.
The Vikings edged the Golden Flashes, the two-time defending state champions, when senior Jessica Buck and freshman Kasey Rininger hit back-to-back doubles in the bottom of the seventh inning.
"We knew it was going to be a good game," Buck said, referring to how the teams split one-run games in the regular season.
The Vikings rely on sophomore pitcher Emily Dugan, who struck out 11 and walked five Golden Flashes.
"She's a sophomore, she's barely 16 years old," Noble said. "She's been nervous the whole week.
"I had to talk to here, get her to de-pressurize. So we tried to do some fun things because it's very [nerve-wracking] to put a young girl in this kind of setting.
"And she did a great job."
Asked what her coach did to help her, Dugan laughed.
"She just told me to 'calm down,'" Dugan said. "That works for me."
The Irish and Vikings played in the regular season. Ursuline won, 7-5, but Noble said circumstances will be different on Thursday in Massillon.
"I pitched two pitchers and played a lot of games," Noble said of the Ursuline game. "It was a game I wanted to see what they had and not get too, too serious.
"We had some errors, we had 10 hits, they had three. We pounded their pitcher."
One of them — the Irish or Vikings — will be playing in Saturday's regional title game.
The other four other teams hope to be equally busy.
"We are so proud of the girls and how great they are working together," Ward said. "We look forward to representing our high school and community in the upcoming regional tournament."
Her words could be echoed by the other five teams still alive.