Boardman girl battling chordoma
---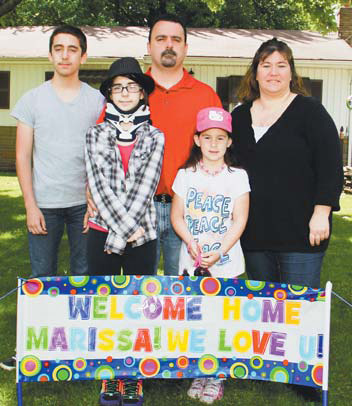 Photo
Edward, Marissa, Ed, Mary Anne and Anne Marie Salus pose for a picture behind a "Welcome Home" sign set up for 12-year-old Marissa when she returned from the Cleveland Clinic after nearly three weeks and two surgeries to treat her chordoma.
By Emmalee C. Torisk
etorisk@vindy.com
BOARDMAN
Marissa Salus is a fairly typical 12-year-old girl whose favorite things include listening to the boy band One Direction, eating pizza and chicken nuggets, and playing the flute in the Boardman Glenwood Middle School Band.
But about a month ago, Marissa began to complain of neck pain, along with some numbness and tingling in her hands, to her mother, Anne Marie Salus. Doctors initially attributed her symptoms to a strange sleeping position, then to a benign bone cyst.
She was scheduled for a biopsy for the following week — just as a precaution.
The biopsy revealed that Marissa had chordoma, an unusual type of cancer that occurs in the bones of the skull and spine. Even more unusual was that her chordoma had been found in the cervical vertebrae, or the neck region of the spine.
The diagnosis turned her family's world upside down, Anne Marie said.
"You never expect that someone's going to tell you that your 12-year-old is diagnosed with this rare form of cancer that's typically not even found in children," she said.
Only 300 people in the U.S. are diagnosed with chordoma each year, according to the Chordoma Foundation. The odds of an adult contracting chordoma are literally one in a million, but they're even more minuscule for children.
Overnight, life had changed, said Fred Roth, Marissa's grandfather. In a matter of weeks, his granddaughter had gone from having a stiff neck and a stiff arm to fighting for her life.
Roth said he's no stranger to cancer or to death, but that dealing with Marissa's illness has been especially rough.
"I had never heard of chordoma, but I took a crash course really fast," Roth said. "If I had an enemy, and I'd like to think I don't, I would never wish anything like this on them."
On May 8, Marissa had her first of two surgeries at the Cleveland Clinic's Center for Spine Health, and she had the second one two days later.
Marissa said the surgeries went great, thanks in part to her doctors who promised that they "would figure out how to get rid of [the chordoma]."
Combined, the two procedures stretched for nearly 15 hours and required the removal, then reconstruction, of two vertebrae. Doctors were confident that they'd removed between 90 percent and 95 percent of the chordoma, Anne Marie said.
"She's actually got really good spirits, a good sense of humor and a good outlook," Anne Marie said, adding that Marissa has complained about the pain only once or twice. "She's really tough. If it was me, I'd tell them, 'Pump me full of morphine, and leave me alone.'"
Marissa said she is simply grateful to have the support of her friends and family members, including her 7-year-old sister, Mary Anne; her 15-year-old brother, Edward; and her 21-year-old brother, James.
"They've been motivating me and telling me that I can do this, that I can get through it," she said.
Olivia Thomas, 13, has been friends with Marissa since kindergarten.
"She was like, 'I have cancer, and I have a tumor.' It was really scary for me to hear that because I've known her for a long time," Olivia said. "It's hard not to have her there with me and hang out."
With two surgeries and a lengthy stay at the Cleveland Clinic behind her, Marissa said she is pretty excited to be back home. She'll stay there until she's had a few weeks to heal, then will travel to the Perelman Center for Advanced Medicine in Philadelphia for six to nine weeks of proton-beam therapy. It's one of only 10 places in the country that offers the therapy.
Proton-beam therapy is more effective for treating chordoma, Anne Marie said, because unlike other types of radiation therapy, it can focus on a particular area without damaging surrounding vital anatomy, like the spinal cord.
Such extensive treatment comes with a hefty price tag, however, and it's beginning to take a toll on the family, Roth said.
"We were running some numbers, and it's extremely expensive. We don't know when the insurance is going to run out," he said. "The insurance has been handling most of the bills, but when the bills do come, they'll come by the wheelbarrow."
When Anne Marie's co-workers at Boardman Medical Supply heard about Marissa's diagnosis and the ensuing costs, they wanted to help out, said Mary Cabuno, the lead customer-service representative at BMS. So, they immediately began to organize a carnival-themed benefit dinner, which will take place from 1 to 5 p.m. June 29 at the Mahoning United Methodist Church, 2214 Mahoning Ave.
"We're like a family. ... It affected all of us as if it were our own children," Cabuno said.
"We don't have [big] bank accounts or two incomes, but we need to make sure [Anne Marie's] able to take care of her daughter and not lose everything she has," she added.
Anne Marie said her co-workers at BMS — along with family, friends and even strangers — have gone beyond her imaginations to help her family.
Roth said he's hopeful that Marissa's progress will continue.
"When I talk to her now, she sounds stronger than before the surgery. Two weeks ago right now, she was on the operating table having part of her spine removed. If you talked to her now, you wouldn't believe it," Roth said.
"In the end, if they say it was successful, that would answer about half a billion prayers."
IF YOU GO
Boardman Medical Supply
will host the carnival-themed
Marissa's Mission Benefit Dinner at Mahoning United Methodist Church, 2214 Mahoning Ave., from 1 to 5 p.m. June 29.
Admission: $10 for adults and $8 for children. Tickets
will be available at the door, but they also can be purchased at all BMS locations and by calling 800-443-3390.
For carry-out orders, call Kristina at 330-766-9642 or Mary at 330-559-7901 on the day of the event.
To make an online donation, visit http://www.boardmanmedicalsupply.com and click on the "Marissa's Mission" link on the home page.