Published: Wed, May 29, 2013 @ 4:50 a.m.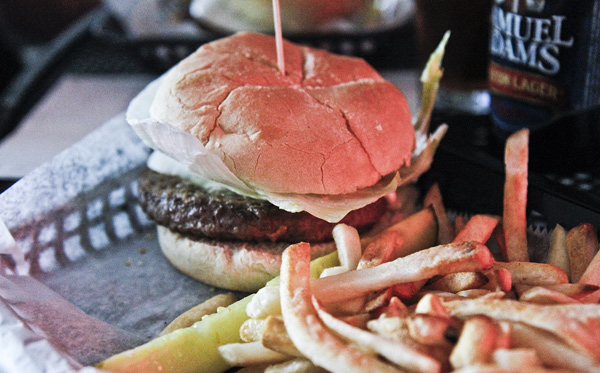 Photo
A burger from Quench Bar and Grill
If You Go...
Where:
Quench Bar & Grill
8414 Market St., Boardman
Phone:
330-953-3313
Hours:
Noon to 2 a.m. Sunday and 11:30 a.m. to 2:30 a.m. Monday through Saturday
Menu:
Five burgers ($7 to $7.59)
Website:
By Anthony M. Fuda
Is there a void in your appetite?
Do you need something to satisfy those new burger cravings?
Then we've found the perfect place where you can Quench your burger desires.
Quench Bar & Grill is a short drive from the Southern Park Mall and offers a nice break from those chain restaurants littering the area.
The Guyz arrived at our normal meeting time and proceeded inside. We looked around the quaint sports bar, eyeing the stocked bar area and casual seating space. There is not a seat in this place where you can't see a TV. We then looked outside and saw a covered patio with two more huge TVs. Opting to enjoy the pleasant evening, we ventured outside and found an accommodating table.
A short time later, our server Amy Lorimer, walked over and rattled off the beer specials as we looked over the menu's burger section.
We found five enticing burgers to choose from: Steak Burger (seasoned patty with lettuce, tomato and onions), Black & Bleu (bleu cheese, lettuce, tomato and onions), Bacon Cheddar (barbecue sauce, bacon, lettuce, tomato and caramelized onions), Josh's Signature (seasoned patty sauteed in Teriyaki sauce with cheddar and bacon), and Mushroom Swiss (mushrooms, Swiss cheese, lettuce, tomato and onions). We thought it was a nice selection with a couple unique choices.
Each burger comes with chips and a pickle. For $1.50 more you can substitute fries. We all went with the handful of pre-cut fries.
As we were trying to tell our waitress what burger temperatures we wanted, we were told the burgers are baked and served medium to medium well. We were skeptical, thinking that baking the burgers would dry out the beef -- which, luckily it didn't.
After making our burger selections, we bounced our attention between the games and awaited our meals.
Looking around we noticed all the waitresses were very attentive, and even if it wasn't their table, they would check with each customer to make sure everyone was satisfied.
Our burgers arrived and we each took our basket and dug in. We did our taste test and found ample seasoning in the beef, which is very important for a good burger.
The toppings were fresh, adding that little something to each burger.
I went with the Bacon Cheddar Burger and enjoyed the nicely seasoned, juicy patty. The bacon could have been crispier for me, but the overall taste of the burger was very good. The bun was fresh and soft, so much that I felt this burger might soak right through, but the bun held up very well and kept the flavorful juices ready for each bite.
Johnny "Spatman" also had the Bacon Cheddar and thought the caramelized onions brought out the best in his burger, saying, "They were very tasty.".
Scott had the Black and Bleu Burger and said, "The key to a good burger is seasoning and this burger had just the right amount, so the Bleu cheese didn't have to overpower the beef." He was also unsure of baking the burger, but after taking a couple bites he noted, "The beef was very moist and juicy - not what I expected after hearing it was going in the oven."
John D chose Josh's Signature Burger and said, "The teriyaki sauce was the best part of this burger. It made the burger a bit juicier than it would have been without it and it actually paired well with the bacon and cheddar cheese."
He added if you like the teriyaki flavor, give this burger a try.
If you are out in the Boardman area and are sick of all that fast food, or chain restaurant clutter the strip has to offer, take a ride down Market Street and Quench your burger hunger.
Quench Bar & Grill is located in a strip mall with an indoor glow-in-the-dark Putt Putt coursenext door, so you can grab a burger between rounds.
3 stars
Keep sending all the great burger suggestions to mvbrb@hotmail.com, and like the Facebook page BurgerGuyz to keep up with all your latest burger news.