Larkin-DeAngelo nuptials set for October 12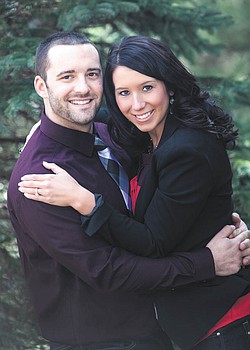 Photo
Chad M. DeAngelo and Alyssa R. Larkin
Michael and Kathleen Cook and Peter Larkin, all of Austintown, and Mark and Sandi DeAngelo of Boardman are announcing the engagement of their children, Alyssa Rae Larkin of Austintown and Chad Michael DeAngelo of Boardman.
Melanie DeAngelo, mother of the future groom, is deceased.
St. Christine Church in Youngstown will be the setting of the 2 p.m. open wedding Oct. 12. Invitations will be issued for an evening reception at the Maronite Center, also in Youngstown.
The bride-elect received a bachelor's degree in pharmaceutical sciences and a doctor of pharmacy degree, both from the University of Toledo. She is a pharmacist for Walgreens in Cleveland South District.
The prospective groom earned a bachelor's degree in adolescent/young adult education from the University of Toledo and a master's degree in educational leadership from Concordia University.
He is a teacher at Boardman High School.