Boardman event honors veterans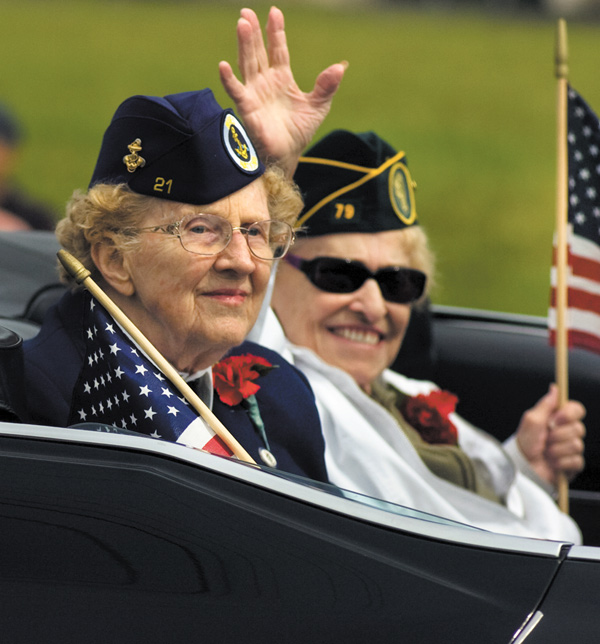 ---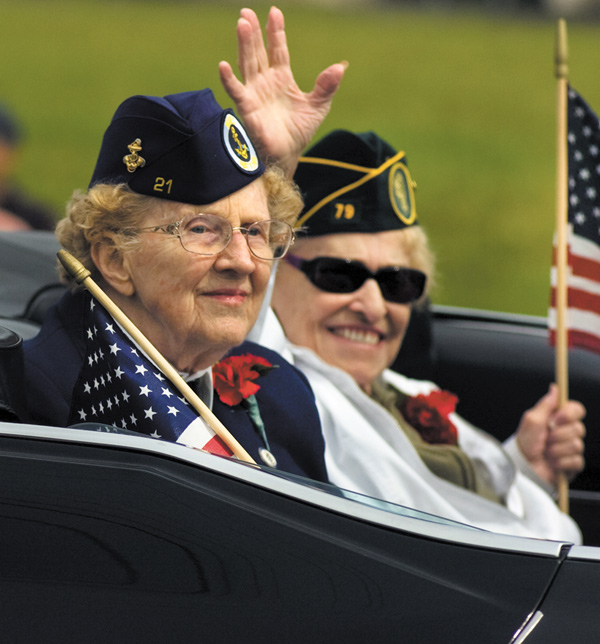 Photo
Nan Reeveley, front, and Florence Pearl, both of Boardman, ride in the North Coast WAVES Unit 21 car, waving to spectators during the Memorial Day Parade in Boardman.
By Sean Barron
BOARDMAN
Like many military veterans, Joseph Slipenchak finds it difficult to rehash memories of his service.
On the other hand, he's grateful when people thank him for what he did more than six decades ago.
"I served in the infantry. Today's program was very nice and right on time," the Boardman man said, referring to being honored during Monday's 109th annual Boardman Memorial Day program at Boardman Park's Maag Outdoor Arts Theatre.
Hosting the event was the Kiwanis Club of Boardman.
Slipenchak, who served two years in the Army in the late 1940s, was among those honored during the two-hour program, which was to recognize and thank current military personnel as well as veterans of all military branches for their service to the nation.
"It would be nice if the public gets their flags out," said John Curea, a two-year Army veteran who served in the 28th Division German Occupation, 103rd Engineer Battalion. "It's important being with family and everybody celebrating together. We should not ever lose our patriotism."
Curea and Slipenchak also are members of Boardman-based American Legion Post 565. Joining the two men for Monday's gathering was John E. Malys, Post 565's commander and an Air Force veteran who served in the Korean War.
The keynote speaker was Gary Rhamy, a longtime area broadcasting performer who hosts the morning Wake Up Club program on WYCL-AM 1540.
Rhamy, who also was grand marshal of the parade that preceded the program, asked attendees to remember and appreciate the more than 1 million men and women who made the ultimate sacrifice to preserve the country's freedoms.
Rhamy served two years in the Army at Fort Knox, Ky., where he used his broadcasting talents and skills to make training films for soldiers, he recalled.
After his service, Rhamy returned to Youngstown, where his voice was heard in the late 1960s on WBBW-AM 1240. In addition, he worked with local radio legends such as Boots Bell and Johnnie Kay, along with singer and Boardman native Maureen McGovern.
Rhamy, who also owns Peppermint Recording Studios in Youngstown, recalled having been diagnosed with colon cancer and how a Veterans Affairs hospital helped him recover. He also asked his audience to appreciate the contributions of those who enlisted in the armed services.
"I hope you will say 'thank you' to a veteran and remember those who have served. I hope you, as I am, are proud to be an American," he concluded.
Before the program, the parade began at Boardman Center Middle School on Market Street.
Adding to the entertainment were about eight members of North Lima-based Hit 2B Fit, who combined drumsticks and large exercise balls as makeshift drums. The fitness program started last month, said Diane Arone, a co-owner.
During the Memorial Day program, more than 40 veterans of all military branches stood by a flagpole to applause as their songs were played.
Also during the service, retired Air Force Lt. Col. Bill Moss placed a wreath to recognize those who served the nation. Muhammad Akbar, president of the Boardman High School National Honor Society, placed a wreath to honor current military personnel.
Performing the musical selections was the Boardman High Wind Ensemble.
The Rev. Ash Welch, pastor of Boardman United Methodist Church, gave the invocation.