Artful engineer: A snapshot of his life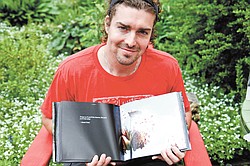 Photo
MADELYN P. HASTINGS I THE VINDICATOR Youngstown State University civil-engineering major Joshua Rupe's love for photography has taken him on countless trips through Mill Creek MetroParks — and afar — and has led to his getting two photography books published.
By Sean Barron
YOUNGSTOWN
If you were to randomly select a handful of goals, pursuits and ambitions, your odds of hitting one that Joshua Rupe has delved into or plans to pursue are quite good.
Add overall interests to the equation and your odds increase dramatically.
"I went on a trip with friends to the Bahamas," the Youngstown State University civil-engineering major said recently from his McCollum Road home on the West Side. "I was gone one week and I photographed sharks, coral reefs and old shipwrecks."
A recent interest and passion Rupe has developed is a love for photography, especially of landscapes. That has taken him on countless trips through Mill Creek MetroParks — and afar — and has led to his getting two photography books published, the latest about six months ago.
Other travels with camera in hand have taken him through much of Mexico, including Cabo San Lucas, Punta Cana and near the Yucatan Peninsula, Rupe explained, adding that he also plans to visit Europe, as well as make a July jaunt to Aruba on a weeklong scuba expedition.
His most recent book, "Mill Creek Park: A Showcase of its Beauty" (Blurb Inc., $35) shows Mill Creek Park snapshots that capture the park's moods, colors and variations throughout the year, most with quotes pertaining to nature next to them. Examples include "In three words, I can sum up everything I've learned about life: It goes on," (Robert Frost) and "If you truly love nature, you will find beauty everywhere," by Vincent Van Gogh.
"I love to work with landscapes, and I'm moving toward people," Rupe said.
Roughly four months ago, Rupe, a 1994 Chaney High School graduate, launched his business, Artistic Design Photography.
Last year, he published his first book, "Black and White Photography," which is a showcase of well-known Mill Creek Park sites such as Lanterman's Mill, the nearby waterfall and the golf course. Also included are shots of the new V&M Star Steel plant off U.S. Route 422.
"It's a lot of different options," he said of the park.
That also could be said of his lifestyle.
For a while, Rupe lived in Vancouver, Wash., and attended Washington State University before transferring to YSU. While in Washington, he worked in a rock pit, drove a backhoe and took engineering classes, he recalled.
Rupe usually is grounded when it comes to taking pictures, but he plans to take his skill to new heights. Another ambition of his is to enroll in a two-year program at a flight school near Akron, obtain his pilot's license and buy a small plane, he continued.
All of that would set the table for Rupe to achieve yet another goal: to be an aerial photographer and photograph locally as well as over famous spots such as Yosemite National Park, the Grand Canyon and the Atlantic and Pacific oceans.
Rupe, however, is not the first in his family to see his works in print.
In 2006, his father, the late Richard Rupe, who taught science and drafting at Volney Rogers Middle School, published "Life Line Twenty Fifty." That book is a science-fiction account of the implications of importing and exporting engineering capabilities, noted Rupe, who added that he also wants to design video games.
To obtain a copy of Rupe's books, go to www.blurb.com. His website is www.joshrupe.net.