---
Flags in Austintown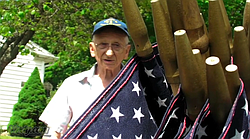 Video
An Austintown neighborhood is decorated with American Flags.
Pick your event for a Memorial Day bash
By LEE MURRAY
YOUNGSTOWN
The Memorial Day weekend promises warm weather for outdoor shows and activities, great live music and home cookouts featuring locally produced sausages made with blueberries.
You read that right. Casey Malone, host of local food show "The Casey Malone Show" on 21 WFMJ-TV, is cooking out with friends this weekend. She stocked up on grill items at Catullo's Prime Meats in Poland.
She is excited to try something different.
"We have portabello asiago burgers, lamb burgers, and we're getting fresh-caught cod, too," Malone said.
Danny Catullo, manager of the butcher shop, said preparing for a long weekend has given him a chance to experiment with new sausage recipes.
"To kick off the summer, we're trying maple blueberry sausages," Catullo said. "The maple syrup comes from Kinsman, and the blueberries are from local farms."
He said that another popular new item is their strawberry margherita sausage.
MEMORIAL SERVICES
There are parades and services across the Valley on Monday to remember service members who gave their lives in active duty.
"Some people forget what the day is about," said D.J. Dickson, who served as a corporal in the U.S. Marines Corps. "It's a time to sit down and remember them and what they fought for. We should take advantage of the fact that there is a day set aside for that."
Throughout the Valley, there are a multitude of events to attend and pay respect to the fallen.
In Boardman, the 109th Memorial Day Parade starts at 10 a.m. at Boardman Center Middle School. The Boardman Spartan Marching Band will be among the participants. Austintown's parade starts at 10:30 a.m. from the Marc's parking lot on Mahoning Avenue heading down to Austintown Fitch High School.
The entire listing can be found on Page A5.
BUSY ROADS
As Memorial Day weekend is the unofficial start of summer, expect the roads to be busy. The National Weather Service forecasts clear skies all weekend, with temperatures around 65 degrees Saturday, 67 Sunday and 70 Memorial Day.
A long weekend of sun will bring motorcycle enthusiasts out of their garages and on to the open road. While the leather chaps and jackets will be packed away with the rest of the winter wardrobe, there are some summer safety essentials that motorcyclists simply can't be without.
"Real men wear Chapstick," said Jim Nadasky, owner of Youngstown Cycle Supply on Market Street, Boardman. "Leave the flip-flops at the beach, and wear your helmet, for crying out loud."
"We just want all drivers to be aware that there are bikes out there," said Megan Stevens, Nadasky's daughter and the store's co-owner.
Bike safety is important to the Rev. Jeff Baker, too. The Rev. Mr. Baker, of Christ Episcopal Church on Atlantic Street, Warren, is leading his church's first Blessing of the Bikes and Riders in the rear parking lot of the church at 2 p.m. Saturday.
"We will ask God's blessing so they have a safe and enjoyable riding season," said Mr. Baker, who doesn't own his own motorcycle — but once rode a moped. Information is available at the parish, 330-372 4998.
Car, van and truck drivers are encouraged to travel safely, too. The Boardman Police Department is focusing on increasing vehicle safety by enforcing seat-belt laws as part of the national "Click It or Ticket" campaign.
"We want everyone to have a safe summer," Boardman Police Chief Jack Nichols said.
Getting around is more expensive this Memorial Day than in past years. Local gas prices tend to spike just before peak consumption times — such as national holidays — but this year, the average price of a gallon has shot up 17 cents to $3.814 per gallon in just one week in Northeast Ohio.
But higher gas prices will not curtail most travel plans. According to a AAA survey, 62 percent of travelers this weekend will not change their plans to save on gas. Most Americans still prefer to drive instead of fly, and many of those looking to save are more likely to choose a shorter trip, the survey said.
"I drive an economy car and I get about 22 miles per gallon," said Marissa Devantier of Cortland as she filled the tank of her 1999 Ford Escort at Ultimate Food Mart on Belmont Avenue.
Devantier, an admissions administrator for Victory Christian Center, regularly drives to Michigan with her husband to visit family.
"We normally go every holiday, and this year, I compared how much it would cost to fly instead."
Devantier said that driving was still cheaper.
MANY EVENTS
You can save gas by traveling on foot, and what better way to do that than by walking or running in the Memorial 5 on Saturday, a fun run from the YMCA on Champion Street, Youngstown. The route cuts through Mill Creek Park and around Lake Glacier.
Race-day registration is $20 and is between 7 and 8:30 a.m. with the race starting at 9. The kids' half-mile race is free and starts at 8:30 a.m. A portion of proceeds go to the YMCA's Strong Kids Campaign.
A little further out of town is the 2013 Mosquito Lake Chase on Memorial Day, which is open to walkers and runners, too, offering prizes for first-, second- and third-place runners. Race-day registration is $20. Walkers start at 8:45 a.m. and runners at 9 from Maplewood High School in Mecca. For information, see www.gopherarun.com.
Fellows Riverside Gardens in Mill Creek Park remains open all weekend including Memorial Day, and invites green-thumbed 3- to 5-year-olds to the Celebrating Sunflowers event Saturday. Kids will enjoy a sunflower-themed story, have a sunflower snack and plant their own sunflower seed. The hourlong event starts at 11 a.m. and costs $6 per child.
Blues-rock fans have their choice of cover-band shows Saturday. Led Zeppelin cover band ZOSO will perform at Warren Community Amphitheatre. Admission in $7 for adults, and children 12 and under are free when accompanied by an adult. Gates open at 5 p.m.
In Youngstown, also Saturday, the B&O Station Banquet Hall hosts a 110th Harley-Davidson birthday celebration starting at 1 p.m. with an Eric Clapton tribute band taking the stage inside at 7. Tickets are $12 at the door.
Later Saturday evening is a reprise of the Youngstown All-City Variety Show, a talent competition popular in the 1970s and 1980s. The fundraiser brings singers, dancers, rappers, poets, mimes and comedians together again at East High School, Bennington Avenue, Youngstown. Old school performers perform alongside fresh new talent.
"This year we have brought it back," said Kathy Hammond-Baldwin, president of Finer Things Academy. "This is the first of many activities sponsored by [us] to bring back the sense of community to Youngstown."
The show starts at 6 p.m. Tickets are $8 at the door.
Fans of the local music scene should head to Cedars' new location on Steel Street on Sunday evening. Running from 5 p.m. until late is a Rock 'n' Roll Swap Meet where you can find memorabilia, CDs, vinyl, shirts and posters from local bands old and new to trade or to buy. There will be live music from The Kernal, Sturgill Simpson, and Katienne and Khaled.
A couple of festivals continue through the weekend, too. New Castle Arts Festival, at Cascade park in New Castle, Pa., features kids games, magic, art displays and shows all weekend starting at noon Saturday.
The Dulce-More Festival at Camp McKinley in Lisbon wraps up this weekend with workshops, games and traditional folk music. The festival is open from 9 a.m. to 9:30 p.m. Saturday and Sunday.