Ursuline softball stuns Newton Falls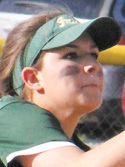 ---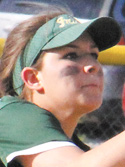 Photo
By Brandon Judeh
BEAVER TOWNSHIP
Ursuline had it backs against the wall in the bottom of the seventh inning during Thursday night's Division III district semifinal softball game at South Range High.
The Irish found themselves down 6-3 with two outs and the bases loaded, one play after a runner's interference call seemed to kill their momentum.
Maddie Christoff and Megan Ross had other thoughts.
Christoff tied the game with a bases-clearing double into left field and Ross, a freshman, won the game with an RBI single to give Ursuline a stunning 7-6 victory.
"There was definitely a lot of pressure, but the great thing is I knew whatever happened my team would have my back," said Christoff. "I got to live out a dream. It was a situation we all dream of when we are little, to come up with the bases loaded and make a big hit."
Perhaps there was even more pressure on the freshman Ross, who says that she had never been in a situation like this during her young career.
"I was nervous going up to the plate, but I knew that I had a hit in my other three at-bats so that helped my confidence a lot," Ross said.
"I knew the only thing I could control was getting the hit and getting to first base."
Ursuline head coach Mike Kernan admitted he was a little nervous during the bottom of the seventh.
"But this is a special group of kids," added Kernan. "They are winners and they never give up and they keep fighting until the final out of the ballgame."
The Irish (19-9) struggled early against Tigers ace Bailey Shade as she helped kill an Irish rally in the third inning.
The Tigers (17-6) got on the board in the first inning when senior Abbie Harrah knocked in two on a double to center field. Newton Falls added another run in the third when a dropped third strike led to a run by Madison Spahlinger.
Newton Falls jumped out to 5-0 lead in the fourth inning when two Irish errors led to two runs.
With the score 6-0 the Irish bats finally came to life when Ross and Anny Carroll each came up with clutch RBI doubles to cut the lead to four.
Makayla Shore settled in nicely for Ursuline and pitched seven innings and struck out five. Ross finished 4-4 with two RBI.
Shade finished 3-for-4 and struck out six batters. She finishes her career with more than 800 strikeouts. Freshman Jenna Ballas finished with two hits and an RBI.
Ursuline's improbable comeback almost didn't happen. With one out and the bases loaded in the seventh inning sophomore Stephanie O'Halek appeared to line the ball past the Tigers' shortstop, however the runner advancing to third was called out due to interference.
"It helped having a senior up to bat in that situation with two outs," Kernan said. "She didn't want her career to end yet."