Hilltop teachers and staff honored at luncheon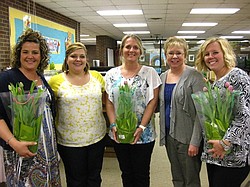 Photo
Neighbors | Abby Slanker.Hilltop Elementary School third-grade teachers, left to right, Jenny Beil, Amanda Thacker, Treena Kackley, Karen Pavlov and Alexis Novotny, enjoyed a special lunch provided by the school's PTO during Teacher Appreciation Day May 9.
By ABBY SLANKER
Hilltop Elementary School teachers and staff were celebrated the week of May 6, and were invited a very special luncheon on the school's annual Teacher Appreciation Day May 9.
PTO volunteers Julie Miller, Joleen Lewis and Theresa Fusco organized the luncheon for the teachers, with the PTO providing the main dishes, catered by Ohio Valley Teen Challenge, and several PTO members donating side dishes, salads, desserts and beverages.
The library was turned into a dining room with star gazer lilies as table centerpieces. As an added bonus, if a teacher chose a plate with a dot on the bottom of it, he or she won a star gazer lily or tulips.
The teachers also received a chocolate heart with a tag that read, "Thanks for teaching from the heart."
The PTO had one last special treat for the teachers on Teacher Appreciation Day. As a special gift, PTO parent volunteers took over lunch duty and recess duty for the day so the teachers could have the whole hour to enjoy themselves, and each other's company, during the luncheon.
The PTO also provided special treats throughout the week for the teachers and staff to let them know how much they are appreciated. On Tuesday, a breakfast was offered for the teachers and staff and on Wednesday, each person found a pack of Reeses Pieces in his or her mailbox with a tag that read, "We love you to pieces."
To close out the week, PTO volunteer Sherrie Jacobs provided hand massages for the teachers and staff during lunch periods. They also received bottles of hand sanitizer with tags that read, "Hands down, you're the best."