CVMS musicians excel at competition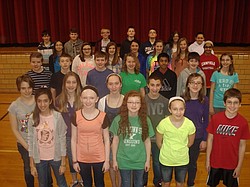 Photo
Neighbors | Submitted.Participants of the OMEA District 5 Solo and Ensemble event are, from left, (front) Sarenna Sethi, Aly Rizer, Katie Vaughn, Melissa Dahman, Luke Siefert; (second row) Smaranda Solomon, Cara Dechurch, Nichole Bruer, Jonathan Scurich, Beverly Sipp; (third row) an Ward, Evan Sotack, Jonathan Gant, Olivia VanDevender, Rajan Taneja, Daniel Griffin, Daria Sansoterra; (fourth row) Emily Hrina, Gianna Pacella, Emilie Miasek, Angela Copploe, Elizabeth Pilolli, Clarisse Rosteck, Harmeet Kaur; (back) Drew Scalzo, Kyle Ring, Brock Cerneka, Garret Kuchmaner, Jared Albright, Shannon Rischar and Kaelin Kabetso. . 
Members of the Canfield Village Middle School seventh- and eighth-grade bands participated in the OMEA District 5 Solo and Ensemble event at Struthers High School March 23.
Seventh-grade students Katie Vaughn (oboe), Jonathan Scurich (snare drum, piano and violin), Allyson Rizer (flute), Emily Hrina (piano), Harmeet Kaur (piano), Ian Ward (trumpet and piano), Sareena Sethi (snare drum), Smaranda Soloman (piano), Daria Sansoterra (flute), Drew Scalzo (xylophone), Brock Cerneka (alto saxophone), Daniel Griffin (trombone), Luke Seifert (snare drum), Jonathan Gant (alto saxophone) and Gianna Pacella (clarinet) and eighth-grade students Shannon Rischar (tenor saxophone) and Emilie Miasek (flute) earned a superior or I rating in the solo event. Kyle Ring (eighth-grade piano), Clarisse Rosteck (seventh-grade piano), Evan Sotack (eighth-grade trumpet), Beverly Sipp (seventh-grade flute) and Rajan Taneja (seventh grade snare drum) earned an excellent or II rating for their solos.
The eighth-grade percussion ensemble (Kaelin Kabetso, Angela Copploe and Elizabeth Pilolli), seventh-grade percussion ensemble (Sareena Sethi, Jonathan Scurich, Rajan Taneja, Melissa Daham, Drew Scalzo, Nichole Bruer, Luke Seifert and Cara Dechurch), seventh-grade saxophone trio (Garret Kuchmaner, Brock Cerneka and Jared Albright) and seventh-grade French horn trio (Emily Hrina, Harmeet Kaur and Olivia VanDevender) were awarded superior ratings in the ensemble category.