Mikovich's home runs power Fitch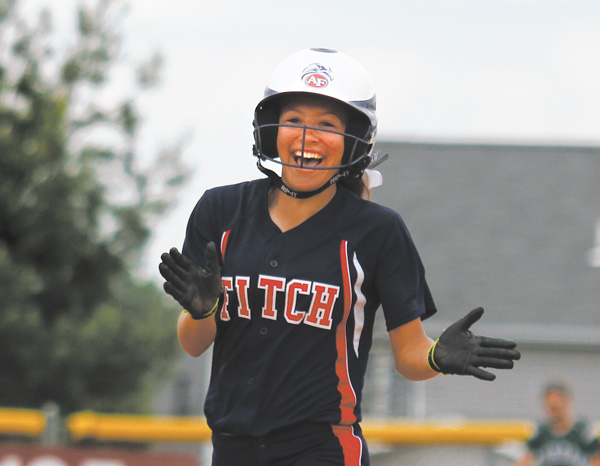 ---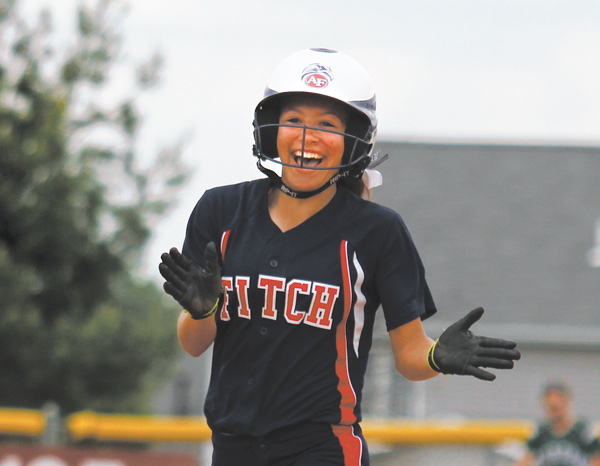 Photo
Fitch's Cali Mikovich is all smiles as she rounds the bases after hitting a two run home run against Aurora in the Division I district softball championship Wednesday at the Fields of Dreams in Boardman. The Falcons ousted the Greenmen, 5-2.
By Tom Williams
BOARDMAN
Austintown Fitch junior second baseman Cali Mikovich couldn't have picked a better time for the first two-home run game of her career.
Mikovich, the Falcons' lead-off hitter, twice hit two-run shots over the center-field fence while Gabby Butcher added a solo homer as the Falcons (20-7) defeated Aurora, 5-2, in Wednesday's Division I district championship at Fields of Dreams.
In clinching their first regional trip since 2005, the Falcons made the most of four hits.
"I've only had one over-the fence home run [in my] whole life," Mikovich said.
With two outs in the third inning, Mikovich connected off Aurora starter Sarah Petrash (12-2), scoring Nicholette Zordich, who had led off the frame with a base hit.
Mikovich admitted she had no idea how far the ball was sailing after it left her bat.
"I started running and I looked up to see [center fielder Nicole Doyle] stop at the fence.
"I was like, 'Did that go over?' — I was in shock," Mikovich said. "Then I went into a home-run trot. It felt nice."
After Butcher hit her solo shot with two outs in the fourth inning, Aurora coach Jessica McDermitt brought in Doyle, the sophomore who had struck out 19 Warren Harding batters in Tuesday's 1-0 semifinal win.
In the fifth inning, Fitch's Chelsea Raymer walked. With two outs, Mikovich sent a 3-2 pitch to deep center for a 5-0 lead.
"Doyle had more speed," said Mikovich of the two Aurora pitcher. "She had a better riseball — I fell for it twice."
Mikovich had the only hit off Doyle, who struck out nine and walked one.
Aurora (22-2) scored twice in the fifth inning, with Devan Ternai and Doyle hitting doubles and Lauren Bowen hitting a RBI single.
Fitch freshman pitcher Alex Franken (20-7) scattered eight hits and received plenty of help behind her. Shortstop A.J. Corradi made two running catches with her back to the plate. One ended the fifth inning with the bases loaded.
Third baseman Zordich avoided a collision with Franken to fire a strike to Butcher at first base for the second out in the six inning.
"The play that Nicholette came up with and the stretch that Gabby made," Fitch coach Melody Ward said, "our entire defense was on today. That's the great thing about our team this year — everybody contributes."
Two batters later, right fielder Katee Sweeney ran hard to catch the third out, stranding two Aurora baserunners.
"Oh my, my heart dropped when I knew it was coming to me," said Sweeney, one of the Falcons' three seniors. "I was so scared because I knew it was going to be right near the fence."
Sweeney said she anticipated the play "because of how the catcher [Mercedes Pratt] set up.
"I'm just so excited because we've never gone this far before," Sweeney said.
Franken was grateful for her support. "I'm kind of speechless — they were such amazing plays," Franken said. "They give me a lot of confidence."