Kylee Vidas was fitted with a genuine pilot flight suit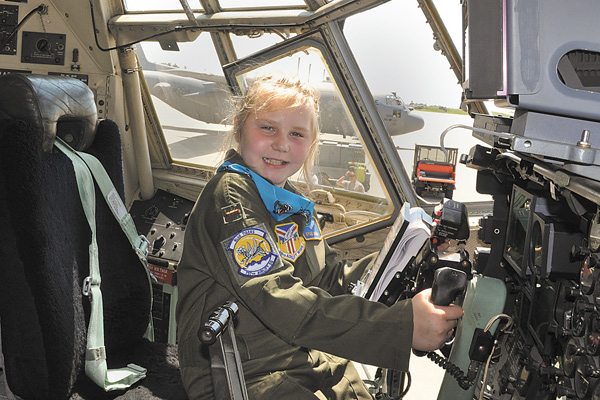 ---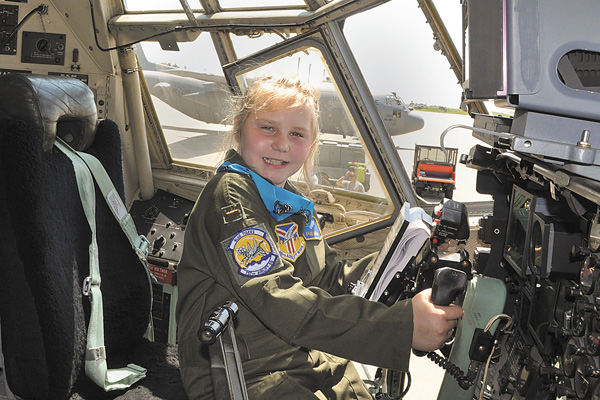 Photo
Kylee Vidas of Howland sits in the cockpit of one of the 910th Airlift Wing's C-130 Hercules military transport aircraft at the Youngstown Air Reserve Station in Vienna. Kylee, who has Type I diabetes, was sworn in Wednesday as an honorary Air Force Reserve second lieutenant and made Pilot for a Day at the 910th.
VIENNA
Kylee Vidas' ear-to-ear smile never seemed to leave her face on her special day at the Youngstown Air Reserve Station where she was Pilot for a Day at the 910th Airlift Wing.
"I got down on my knees and prayed for good weather," said the exuberant Kylee.
The sun shining, Kylee was whisked away in a police cruiser from outside the gate to 910th head- quarters, fitted with a genuine pilot's flight suit — she chose the pink cap over the black cap, and was sworn in by Col. James Dignan, 910th and station commander, as an honorary Air Force Reserve second lieutenant and 910th Pilot for a Day.
The purpose of the Pilot for a Day program, which took place Wednesday, is to provide a fun-filled day of activities to area children who live with a chronic or life-threatening disease or illness.
Kylee, the daughter of Robin Joyce of Howland and Robert Vidas of Youngstown, was diagnosed at age 3 with Type I diabetes. She receives treatment at Akron Children's Hospital Mahoning Valley.
The Howland North Road Intermediate school student loves all animals — she has a dog, two cats and a parrot at home — and loves riding horses and wants to have one of her own.
Described as a "fighter" by her father, a Navy veteran who works at Boston Retail, Kylee has made a remarkable recovery from a nondiabetes-related stroke in January that paralyzed one side and left her unable to speak.
Kylee, bouncing around and talking like a typical 9-year-old, has completed her physical therapy, but is still undergoing therapy for some memory loss.
But one thing she never forgot was the Pilot for a Day.
"One of the first things she asked when she was able to talk was 'will I still be Pilot for a Day?'" her mother said.
After Kylee's swearing- in ceremony, she was presented the Commander's Coin, a special honor, and admonished by Col. Dignan to not drop the coin and always keep it with her.
"Yes, sir," she said.
When asked what she thought about being Pilot for a Day at that point, she said: "It's cool."
After the ceremony at headquarters, Kylee received a tour of the base that included a visit to the Life Support shop, firing the Fire Arms Training Simulator, a ride on a base super-soaker firetruck, and being taxied aboard a $33 million C-130 Hercules aircraft down the main runway.