Ursuline rolls to district title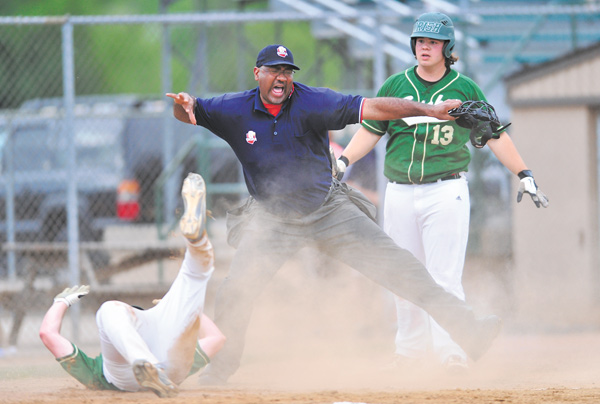 ---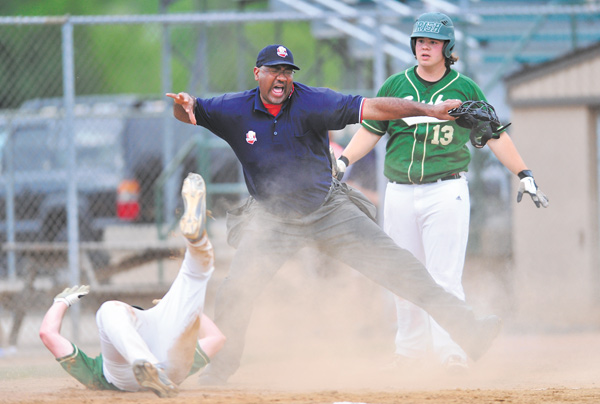 Photo
Ursuline batter Sam Donko (13), right, watches as the home plate umpire calls teammate Ryan Strollo out after Strollo attempted to score on a passed ball during the Division III district baseball championship against South Range on Wednesday at Cene Park in Struthers. The Irish downed the Raiders, 12-1.
By Tim Cleveland
Struthers
With more and more pressure building as teams advance deeper in the postseason, Ursuline has seemingly gotten better and better.
One day after routing Campbell Memorial, 14-3, the Irish were back at it again on Wednesday, hammering South Range for the second time this season, 12-1, to win the Division III district title at Cene Park.
"Our pitching has kind of been what we've relied upon all year, but this is as well as we've swung the bats all year," Ursuline coach Sean Durkin said. "We made a lot of hard outs, too. Today, everything just kind of fell together."
Ursuline (22-2) choked off any chance the Raiders had, scoring three times in the first inning and five more in the third. The Irish sent eight men to the plate in the first and 10 in the third.
"They came out and hit the ball around. They hit it hard," South Range coach Jim Hanek said. "Three runs in the first, then they followed with five. Knowing who you're going against on the mound, it's a pretty daunting task at that point."
"It was a little deflating for South Range," Durkin said. "(The score being) 3-0 was one thing, then we put up a five-spot in the third inning. That's pretty deflating, especially when we have Sam (Donko) on the mound."
Senior third baseman Harry Finelli tripled in two runs his first time up and singled and scored his second.
"I wasn't thinking much at the plate, just kind of reacting to what was given to me," Finelli said. "Just went out and played my game."
He finished 3 for 3 (plus a walk) with two RBIs and four runs scored.
"Harry's big all the time. He's the kind of guy we want up in big situations," Durkin said. "He didn't let us down today. He's been like that his whole career."
Ursuline routed South Range, 18-3, earlier this season. Durkin said he didn't think that result played much of a factor on Wednesday.
"The first game was over a month ago. Different pitchers were on the mound," he said. "I think our kids were confident coming in, but South Range, I think, lost only one game since the last time we played them."
Donko, a senior, pitched a solid complete game, allowing one run on five hits with four strikeouts and one walk in five inning.
"He's a perfectionist out there," Durkin said. "Even when we were up 9-1, he's missing some breaking balls and he's not happy with himself. Maybe that's why he's as good as he is."
Trailing 8-0, South Range (22-6) put together its best offensive effort in the top of the fourth. Bill Goodall tripled to lead off the inning. After Darko struck out Ross Stoffer, Ryan Miller flew out to center to plate Goodall. Donko walked Mason Miller but ended the threat by inducing a fly to right by Tyler Rothbauer.
Ursuline advances to the Massillon regional, where the Irish will play either LaGrange Keystone at 2 p.m. on May 30.