Canfield doubles duo complete opposites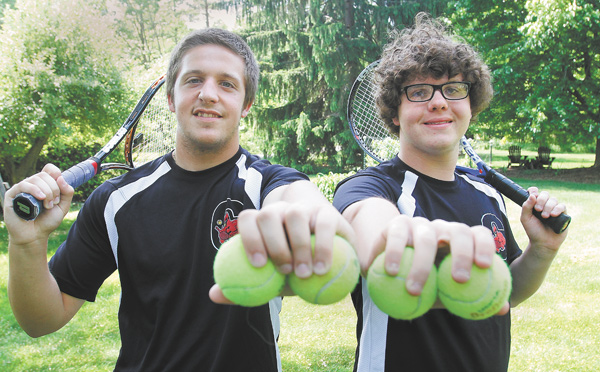 ---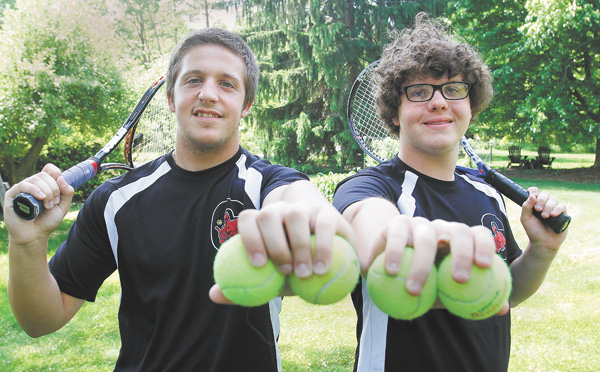 Photo
The Canfield tennis doubles team of Nick Debiec and Will Brown are the No. 2-seed going into today's Division I district tennis meet at Oberlin College.
Canfield tennis partners are complete opposites
By Steve Ruman
In many ways, Will Brown and Nick Debiec are as opposite as night and day.
Brown is a self-proclaimed bookworm whose extracurricular activities include marching band, speech and debate. The Canfield High junior admits to being on the shy side, and often prefers quiet time to himself.
Also a junior at Canfield, Debiec is a member of the Cardinals' football team. He's rambunctious. He's outgoing. Even without trying, he often finds himself the center of attention.
"On the surface, you would think that these two would have trouble getting along," said Canfield tennis coach Larry Davis. "But then again, you know what they say, opposites attract."
In fact, while Brown and Debiec do indeed possess somewhat opposite personalities, they have been close friends since kindergarten. And, while many of their interests differ, they also share a common bond which has resulted in a wealth of success for the Canfield tennis team.
Since they were freshmen, Brown and Debiec have been paired as a doubles team. The duo was nearly unbeatable as ninth-graders. As sophomores, they went undefeated in regular-season matches, and were just one match away from reaching the state tournament.
This spring, they once again breezed through the regular season, losing only twice during in-season tournaments. Brown was also 8-1 in singles play, while Debiec went 7-1.
Last week at the Canton Division I sectional, Brown and Debiec finished second, which advanced them to the Division I district meet at Oberlin. First-round and quarterfinal matches will be played today with action to resume on Saturday. The top six finishers will advance to the state tournament.
"When Will and Nick were freshmen, I remember saying that I hoped they would stick together, because I felt they had what it took to eventually make it to state," Davis said. "I definitely believe that when all is said and done, they'll make it."
"They both have power. They both have good hands, and they both are students of the game. They've always been solid players. Now, they are more experienced and more determined than ever."
In the opening round of district play, Brown and Debiec will face Tanner Banning and Brendan Bauck of Kenston in a win-or-go-home scenario. While the pressure may seem daunting to some, Debiec said he and Brown are "more excited than anxious" at another opportunity to achieve their goal.
"When we didn't advance last year, it only gave us more incentive heading into this spring," Debiec said. "We've worked hard over the past year to improve our game. We're both pretty eager to go at it."
Debiec said that the chemistry between he and Brown is also at an all-time high.
"Being successful in doubles play is all about knowing your partner, and having trust in one another," Debiec said. "We've always been on the same page, but that's especially true today.
"We're at a point to where our closeness almost always keeps us two or three steps ahead of what's actually happening on the court. I know exactly where Will is going to place the ball, so that always helps put me in the right position. Same with him. We rarely catch each other off-guard."
What does often catch opponents off-guard is the relaxed attitude displayed by Brown and Debiec. The two friends rarely show the businessman-like demeanor generally found on the tennis courts.
"We have a lot of fun during practices and matches," Brown said. "A lot of times, our opponents rarely crack a smile, and take a very serious approach to the matches. There we are, cracking jokes, making comments to each other just to keep things light.
"It comes down to the fact that we enjoy playing the game, and we enjoy each other's company."
Still, Brown is quick to point out that the duo's carefree attitude should never be misunderstood. He insists that he and Debiec are "as competitive as anyone you'll find on the courts." And, when they're not competing against opponents, they often find themselves going at it against one another.
"During practices, we're always trying to one-up each other," Brown said. "If Nick hits a crazy shot, I'll try to make the next one crazier. If he fires one at me, I'll try to respond with a harder, faster return.
"We really go at it, but in a fun way. It brings out the best in both of us, and it also keeps things loose."
For now, the fun and games of practice will be put on hold while Brown and Debiec take another crack at reaching their ultimate goal.
"We're a year better and a year wiser," Brown said. "Our competition will be fierce, but I believe we have a good shot of moving on. It's something we've worked toward for a long time, and we won't be satisfied with anything short of state."
Also in the Canfield duo's district bracket are Connor Michelich and Cal Craven of Westlake, winners of the sectional at Oberlin, and Mike Wolowiecki and Dominic Polifrone of Hudson who finished fourth in the Medina sectional.
The state tournament will take place May 31 and June 1.