Falcons flock to downtown nest
Falcons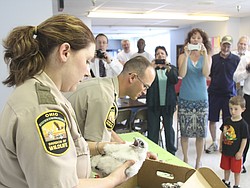 Gallery
ODNR Wildlife biologists Laura Graber and Bryan Kay band one of 3 newly hatched falcons at International Towers in downtown Youngstown 5-22-13.
By Emmalee C. Torisk
Youngstown
Diva, Millennia and Utica are just 21/2 weeks old, but they're already attracting quite a bit of attention.
The three fluffy peregrine falcon chicks live with their parents, Stammy and Strike, in a rooftop nest atop the 17-story International Towers building on Market Street.
On Wednesday, a crowd of wildlife officials and wildlife enthusiasts gathered in a second-floor room of the downtown building to watch the Ohio Department of Natural Resources' annual banding of the chicks.
"We're banding them for tracking and research purposes — to see what the survival rates are, or if what we're banding here goes to other states," said Laura Graber, peregrine-falcon coordinator for Northeast Ohio for the ODNR's Division of Wildlife. "It helps us get an idea of the population numbers in the state."
The banding process took only about an hour, but the three chicks — one female and two males — squawked loudly throughout. One by one, the chicks were removed from their shared box by ODNR officials and banded with two bands made of lightweight aluminum: a red and black state band on the left leg and a purple federal band on the right.
The chicks will start flying in about three weeks, Graber said. Once the falcons leave the nest in July or August, ODNR won't know their whereabouts unless someone identifies the birds by their bands and reports a sighting.
Wednesday's peregrine falcon banding in Youngs-town was one of just 10 across Ohio, and it was the only one in Mahoning County. Previously, ODNR banded every nesting location but is cutting back, Graber said, which is actually good news for the species.
Northeast Ohio boasts 17 active nests, but only the falcon chicks in Cleveland, Canton and Youngstown will be banded this year.
"We're only doing three in the district, in Northeast Ohio, because [the falcons] are doing so well," she said.
By 1965, no peregrine falcons were fledged in the eastern or central United States, a result of the pesticide DDT interfering with their egg production.
In 1979, though, the Eastern Peregrine Recovery Plan was created in an attempt to restore the population. Last year, 30 successful nests in Ohio produced 61 falcons, according to the ODNR.
Peregrine falcons were downgraded from the federal endangered species list in 1999 and the state endangered species list in 2008. They're now listed as threatened in Ohio, and the population will be evaluated again in 2015, Graber said.
In the future, ODNR may even stop banding them all together. Even if that happens, Kathy Zook of Cortland said Youngstown residents are lucky to simply have a peregrine falcon nest downtown. The self- described "falcon fan" attended Wednesday's banding to support the birds.
"ODNR does a really job of keeping track of the nests," she said. "[The bandings] are so the public can become more aware of nature and embrace the falcon."
Zook was the first to alert Mildred A. Delgado, property manager at International Towers, of the peregrine falcons — Stammy and his former mate, Stellar — that had begun to nest on the building's roof in April 2010. The two weren't successful in that first year, although they did have productive rooftop nests at the Stambaugh Building and at the Mahoning County Courthouse in prior years, Zook said.
"Kathy contacted me and said that there was something unique on the roof," Delgado said. "Since then, [the nest has] gotten bigger and bigger."
Stellar died in 2011, but Stammy wasn't a bachelor for long, Zook said, adding that Stammy and Strike have had successful nests at International Towers for the past few years.
Delgado said she's glad to have the falcon nest at International Towers — and is flattered that one of the chicks, Millennia, is named after her and Millennia Housing Management, which owns International Towers.
"It's a great collaboration," Delgado said. "That's [the falcons'] choice. They've decided to live here, and they come back each year. They feel comfortable here."
"It's because they like their landlord," Zook said.