Mooney rolls past Struthers in D-II final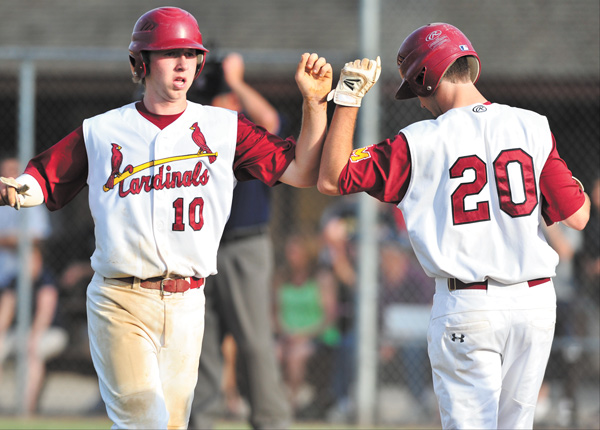 ---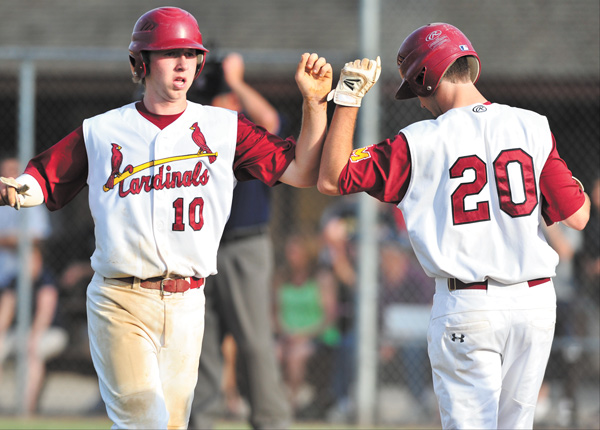 Photo
Cardinal Mooney's Drew Beck (10) is congratulated by Ryan Megyesi (20) after scoring a run in the top of the second inning against Struthers on Tuesday.
By Joe Scalzo
struthers
The last time Cardinal Mooney's baseball team won a district title, a quarterback/pitcher named Kyle McCarthy was a few weeks away from his Notre Dame football career and a future manager named Al Franceschelli was a year away from his groomsman career.
Over the ensuing six years, Franceschelli led the Cardinals to the district final four times.
He lost four times.
"This was our fifth trip," Franceschelli said Tuesday night, "and it was a lucky one for us."
Well, "lucky" is a stretch. Like that 2005 game (which Mooney won 13-0), Tuesday's contest was no contest, with the Cardinals rolling to a 12-0 victory in five innings in the Division II finale at Cene Park.
"Finally, we made it," Franceschelli said. "This really felt good."
While the Cardinals (20-7) got contributions from just about everyone, two players — both juniors — stood out: Ryan Megyesi and Gino DiVincenzo.
Megyesi, the No. 9 hitter, doubled and tripled — both times with the bases loaded — and drove in five runs to break the game open after three close innings.
"I was just trying to put the ball in play and help the team," Megyesi said. "It just happens that I got hold of it and put it in the outfield."
The Cardinals jumped out to a 2-0 lead after three innings thanks to just one hit and five walks. They finally chased Wildcats starter Dan Diloreto with one out in the fourth, scoring four runs in that inning thanks to Megyesi's triple.
"I think he ran out of gas," Franceschelli said of Diloreto. "We always try to outlast the other pitcher and when we saw he had trouble [throwing strikes] in the second and third inning, we were taking until the first strike.
"We had a couple breakdowns on that but overall the kids were very patient. They were hitting quality pitches and it paid off."
DiVincenzo, meanwhile, tossed a three-hitter with six strikeouts — none bigger than the one against Struthers DH Vinny Fandozzi, who fanned on three pitches with two outs and the bases loaded in the bottom of the second.
"Drew gave me my sign and I hit my spot," DiVincenzo said of catcher Drew Delsignore. "I left it in his hands and my coaches' hands. I did my job and he did his.
"I just tried to throw strikes and let the defense make plays behind me."
Delsignore added two hits and two RBIs for Mooney, which advances to play Canton South at 2 p.m. Thursday at The Ball Park at Hudson. The Cardinals have never won a regional championship.
"We're still hoping to continue," Megyesi said. "We're not done yet. We have the capability to play with the best. I think we'll be able to do that."
Mooney lost to Canfield 8-0 in last year's district final and entered this season with the bulk of its talent in the junior class. The Cardinals actually had the same number of sophomores in the lineup as seniors on Tuesday (two).
That wasn't necessarily a bad thing, Megyesi said.
"We had a lot of young guys coming up we knew could play," he said. "This [title] has been our goal since the winter. It feels great to accomplish that goal, especially after losing to Canfield like that last year."
No. 8 hitter Joe Wilaj singled and doubled to lead sixth-seeded Struthers (14-9), which beat fourth-seeded Ravenna and top-seeded Niles to advance to its first district championship game since winning that game in 2001.
"We knew these guys would be really tough because they went through the toughest part of the bracket," said Franceschelli, whose team was seeded second. "They beat the No. 1 team ... so I knew they were going to be formidable.
"And they don't quit. Struthers kids never do."