Discouraged workers drive shrinking labor force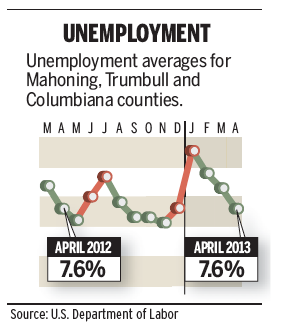 ---
YOUNGSTOWN
The Mahoning Valley's unemployment rate is dropping, but the reasons for the decrease may have more to do with discouraged workers than robust economic growth.
The civilian labor force continues to shrink because of workers who have been out of work for so long they've stopped seeking jobs and, therefore, are no longer counted as unemployed, said George Zeller, a Cleveland economist.
"The issue of discouraged workers is a problem all over the state, not just in the Valley," Zeller said. "Once someone loses a job, it takes them a long time to find another one."
The Valley, however, is doing better than the rest of the state in terms of job growth, although any job growth remains slow, he said.
Discouraged workers have been a problem for some time, and employers can be more selective in a tight employment market, said Bert Cene, director of the Mahoning Columbiana Training Association
The issue is that over the past few years, "we take two steps forward and then one big step back," said Bill Turner, workforce administrator at the Trumbull County One-Stop.
"Every time we have some new hiring, then there's a mass layoff that puts us right back where we were."
The area's unemployment rate dropped from 8.3 percent to 7.6 percent. The civilian labor force shrank by 1,000 workers, the number of people unemployed fell by 1,900, and the Valley added 800 jobs.
Overall, the unemployment rate for Mahoning, Trumbull and Columbiana counties is identical to April 2012 at 7.6 percent. There was a similar drop in the unemployment rate from March to April in 2012 from 8.4 percent to 7.6 percent.
The Valley has benefited from the auto-industry recovery and its impact on the General Motors plant in Lordstown, Zeller said.
Additionally, Utica Shale development is helping the steel industry and manufacturing.
There's been an increase in requests for companies seeking positions in manufacturing, Cene said.
"Some of those requests are still for hard-to-fill jobs," he said.
The area still needs to train more people for the welding jobs and other positions needed by manufacturing, Cene said.
In Trumbull County, the requests from employers have "been scattered. There's no great pattern," Turner said.