Marc Dann seeks the reinstatement of his law license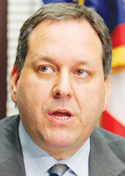 ---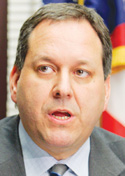 Photo
COLUMBUS
Former Attorney General Marc Dann, who lost his law license for six months, is seeking to get it reinstated after serving the full suspension.
But it could be a few months before the Ohio Supreme Court, which suspended his law license Nov. 20, rules to lift the suspension that ended Monday, said Bret Crow, a court spokesman.
"It's not automatic," he said.
Dann had to meet certain provisions — including paying all costs of the proceedings, complying with the order of the suspension, completing continuing legal-education requirements and having no formal disciplinary proceedings pending — before the court can reinstate his license.
The application for reinstatement, filed by Alvin E. Mathews Jr., Dann's attorney, states the former attorney general "submits that he has complied with all of the requirements for reinstatement."
The application, filed Tuesday with the court, includes documentation in support of that statement, including an affidavit from Dann, a Democrat who resigned from office in May 2008, 17 months into a four-year term.
Dann had to file the application for the court to consider reinstating him.
"I filed a petition with the Ohio Supreme Court seeking reinstatement of my right to practice law," Dann wrote in a prepared statement. "With humility and anticipation I await the opportunity to return to court on behalf of my clients. I continue [to be] overwhelmed by and thankful for the support of my friends and family during this challenging time."
Dann resigned after a scandal in his office that originated when two female employees made sexual-harassment allegations against one of Dann's hand-picked managers. An internal office investigation led to the firing of that manager as well as another and the forced resignation of a third. All three were close friends of Dann's.
The three as well as Dann and his then-wife were found guilty of misdemeanors in 2010.
Dann was convicted of filing a false disclosure form with the state and for providing improper compensation to state employees, related to funds from his campaign and transition account used for an apartment Dann and two of his aides shared and for other expenses.
Dann lived in Liberty when he served as attorney general but has since moved to the Cleveland area, where he is a partner in a law firm.
Contributor: Marc Kovac, Vindicator correspondent