CSB, commissioners, discuss merger
Tweet
Published: Wed, May 22, 2013 @ 12:00 a.m.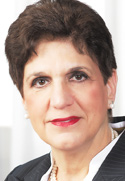 Photo
By JOE GORMAN
YOUNGSTOWN
Mahoning County commissioners and members of the Children Services Board continue discussing a possible merger with the department of Job and Family Services, but the commissioners remained noncommittal as to when or if that will happen.
Some CSB members had reservations about a possible merger with JFS and discussed them with Commissioner Chair- woman Carol Rimedio-Righetti and Commissioner Anthony Traficanti at a special CSB meeting Tuesday afternoon.
CSB member Brigid Kennedy said though she realizes there is a need to cut costs whenever possible, the board already has done that on its own. Interim Director David Arnold said some of those cost-cutting measures include not replacing the former CSB human-resources director and using the county prosecutor's office for legal counsel instead of an attorney who worked for them but was approved by the prosecutor's office.
CSB member Luis Arroyo said he was concerned about a disparity in salaries between JFS and CSB caseworkers, especially with what he termed an "exodus" of employees from CSB in the past couple of years. He said such an issue should be resolved if any merger is to be discussed.
"We really need to look at the workers because they're the ones who protect the child," Arroyo said.
Righetti said the commissioners are considering merging CSB with JFS because of recent retirements at CSB combined with the clientele both share to cut down on administrative costs.
Righetti said she wanted to address some concerns that she was trying to cut jobs or take over CSB. She said with the recent wave of retirements, now is the perfect time to discuss merging services.
"It's not anything hostile or a takeover," Righetti said.
Some of the JFS divisions, such as income- maintenance and child- support enforcement, are located in Oakhill Renaissance Place on the South Side where other county offices are housed.
Kennedy said the board needs to know soon what direction CSB will be heading in because board members are interviewing three finalists Thursday for the executive director's spot vacated by the resignation of Denise Stewart, who retired at the beginning of the year. Kennedy heads a committee that is picking candidates to replace Stewart.
Arnold refused to provide the names of the three finalists. Kennedy told the board she hopes a decision can be made as soon as possible.