Awareness is key during Dog Bite Prevention Week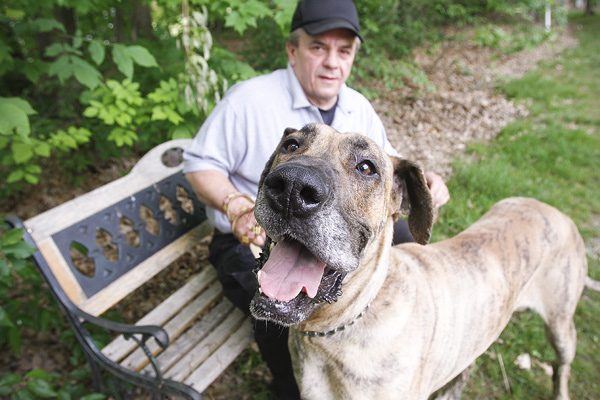 ---

Photo
Dave Nelson, acting Mahoning County dog warden, waits with a Great Dane that is part of a bite case and is quarantined for 10 days. Nelson said Tuesday that dog-bite incidents can involve both the dog warden's office and the health department. This week is Dog Bite Prevention Week.
By EMMALEE C. TORISK
Youngstown
With the scent of spring in the air, it's the peak time of the year for dog bites, said Dave Nelson, acting dog warden for Mahoning County. He's dealt with more than a dozen bite reports in just the past five days.
"People say, 'Well, it won't bite,'" Nelson said. "But you get into spring and they [dogs] get that male-to-female ratio and that smell. When they're focused on that, anything that comes into play could end up being some type of target for them."
This annual increase in incidents during the warmer months coincides with Dog Bite Prevention Week, which is sponsored by the U.S. Postal Service and runs through Saturday.
More than 4.7 million Americans are bitten by dogs each year, and those most commonly attacked are children, the elderly and letter carriers, said David Van Allen, a regional spokesman for the U.S. Postal Service. Ohio ranks fourth in attacks of letter carriers.
Last year, 12 letter carriers in the Youngstown-Warren area were bitten by dogs while on the job. Eight local letter carriers already have been attacked this year, Van Allen said.
Given the right circumstances, any dog will bite, he said, adding that letter carriers are common targets because they come to a property or a residence every day.
"The dog barks at the letter carrier, and the letter carrier leaves. The dog feels like he's chased the letter carrier away," Van Allen said. "Generally, even a gentle dog will feel like, 'Now he's here again,' and run out and bite. It's a protective instinct."
If a dog does threaten or bite a letter carrier, mail delivery could be suspended, and the owner will have to either get rid of the dog, rent a post office box or put a mailbox at the curb, Van Allen said.
Although letter carriers are equipped with pepper spray and a bag that can be used as a shield, owners should be mindful of their dogs, said John Fire, a local letter carrier and co-chairman of the Northern Ohio Safety Task Force.
Dog bites often result in serious injuries, including physical and emotional scars, Fire said, so dogs need to be under control at all times, whether they're fenced in a yard or out walking on a leash.
Neglect is another cause of bites, Nelson said, and so is a simple dislike of humans or of other dogs. But dog attacks can happen anywhere, at any time, he added.
"Always protect yourself. If it's any kind of a dog, remember that it's an animal," Nelson said. "Always know the area you're in. Always remain calm and still. The old saying is, 'The dog knows if you're feeling fear.'"
Van Allen, a lifelong dog owner, said he always assumes that every dog is capable of biting.
"The nicest dog will bite somebody," he said. "Their mouth is their hand. That's the way they deal with each other, and that's the way they deal with humans."