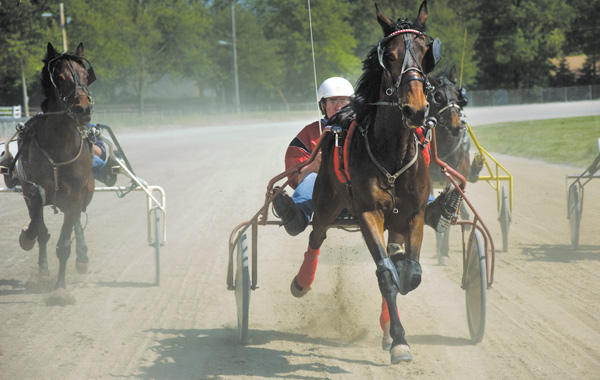 ---

Photo
Jim Criss, center, takes an early lead with Zing Zing during Sunday's harness races at the Canfield Fairgrounds. The event was for inexperienced horses to try racing.
By Greg Gulas
CANFIELD
Woody Woolman, 58, has been involved in horse racing his entire life.
The Canfield Harness Horsemen Association's assistant speed superintendent called Sunday's "matinee" session at the Canfield Fairgrounds the first step in determining whether a new colt or filly has what it takes to become a factor in the sulky industry.
"Harness racing was the NASCAR of horse racing back in the 1920s and '30s and while interest has tailed lately, we're hoping that it will make a comeback," Woolman said. "We had great weather today so the horses that were here got an excellent 'first opportunity' as to what it is like when it comes time to race."
Hosted by the 100-member Canfield Harness Horsemen Association, six "timed" races drew local entries and horses from stables as far away as Pittsburgh.
"We had a decent matinee and that was our goal from the outset," said Jim Criss, CCHA president and driver of Freddie the Grouch and Zing Zing. "We also accomplished what we set out to accomplish and that was for all of the young horses to gain valuable race-day experience."
The colts and fillies ranging from 2 to 3 years of age were met by starter Dick Roth and his wife, Barbara, whose doctored-up Cadillac with gates serves as the start to the race.
A Wauseon native, Roth works 53 fairs in the summer throughout Ohio, Michigan and Indiana.
"While summer fairs have recently given way to demolition derbies and singers, harness racing to me is still the purest form of the sport," Roth said. "I just love to watch these babies grow up and become great race horses."
Horses are re-shoed every four weeks or so and Streetsboro blacksmith, Roy Troutman was busy at his craft as he re-shoed Jerry "Buster" Ross Jr.'s horses Eradicate and CHAMP-IAN. They were horses from Ross' fairgrounds stable who were not entered in the matinee.
"I wasn't smart enough to be a veterinarian, but horses always intrigued me so I am one of the fortunate ones lucky enough to make this my career," Troutman said. "I've spent over 40 years as a blacksmith and when horses behave, my job is easy.
"When they don't stand still, then it becomes a challenge nobody wants to undertake," Troutman said.
Sonny Lewis, who along with Criss owns several horses, called the day an educational experience for all of the entries.
"Today wasn't about who wins the race as much as it was about the drivers taking control and monitoring their horse's speed," Lewis said. "This is the first time that the horses have gone through anything of this magnitude."
Driver Bill Popio, a 35-year General Motors plant employee who is recently retired, has spent more than 30 years as a driver and is involved in training as well.
Along with grandson, Shane Webb, they rode Don Lark's Lark's Andy during his matinee debut.
"I used to drive full-time at Northfield Park, but too many spills and injuries have taken their toll over the years," Popio said. "This was his first time off the farm for Lark's Andy so we wanted to get in some training and practice before he hits the big track.
"We're hoping to qualify him at the Meadows in Pittsburgh this summer."
Webb was seeing the horse for the very first time.
"The key was trying to get him used to the gate, being around other horses and acclimated to the racing atmosphere, which today we did most successfully," Webb said.
Fans also had an up-close opportunity to view horses and drivers in the matinee setting.
"To have the opportunity to watch the horses run while being so close to the action was a real treat," said Howard Cailor, who along with wife, Donna and grandson, Carter, took in the festivities. "Meeting some of the drivers and owners was something that I didn't expect."
After he rode with Roth in his starter car, Carter said, "Being so close to the action was definitely a real treat."
Brian and Melissa Urmson of Columbiana attended with son Braden and daughter Lillian.
"We've attended the races during the Canfield Fair, but have never been this close to the action." Melissa Urmson said. "The view is much nicer when you are this close as opposed to watching from the grandstand."
Harness racing at the Canfield Fair will take place Aug. 31 and Sept. 2. Post-time is 12:30 p.m. both days.