Superior depth defines Blue Devils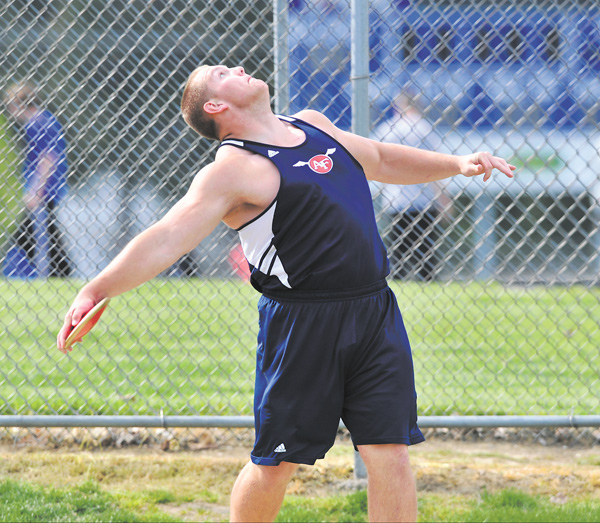 ---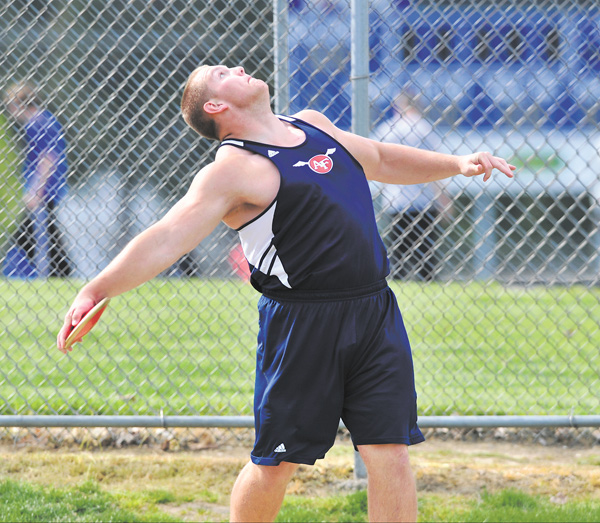 Photo
Billy Price of Austintown Fitch prepares to let go of the discus during a recent meet in Poland.
By Joe Scalzo
At last week's Inter Tri-County League Tier Two track meet, McDonald teammates Patrick Kunkel and Bobby Johnson finished 1-2 in the mile, just a half-second apart.
Then their workout started.
Thanks to their superior depth and talent, McDonald basically clinched last week's conference title by virtue of not running out of gas on the way to the meet. That allowed the Blue Devil coaches to rest their best athletes in the week between the Trumbull County and district meets.
Kunkel, for instance, ran four events (800, 1600, 4x800, 4x400) at the county meet and Johnson ran three (4x800, 1600, 3200).
But after running the mile at the ITCL meet, McDonald boys coach Lou Domitrovich had them work out on their own.
"We train like a college team, where we only want to run hard two or three times a year," said Domitrovich, whose team scored 190 points, almost as many as the next three teams combined (202.5).
"It helps being in this league because we don't have to beat ourselves up every week.
"As a small school, we have a lot of advantages over a bigger school."
While being in a tough league helps you in most sports, some coaches believe it's a liability in track, where teams get more than enough competition from Saturday invitationals.
It's why Fitch boys coach T.J. Koniowsky prefers competing in the All-American Conference's American Division to the Federal League.
"Those Tuesday [dual] meets in the Federal League counted in the league standings and it would just beat you up over the year," said Koniowsky, whose team cruised to the AAC title last week.
"I kind of like the fact that we don't have to over-stress the kids."
Late-season advantage
Speaking of not being over-stressed, Fitch's track teams will be able to focus fully on tournaments thanks to the school year ending early because of construction at the high school.
The Falcons also held prom early after holding it on the same day as the district meet in recent years.
The only Falcon who might not benefit? Fitch senior thrower Billy Price, who is sometimes better when he's multitasking, Koniowsky said. Price threw a personal-best 191 feet at last year's Poland Invitational while looking forward to a date afterward and threw 62-51/2 in the shot put at the district meet just before prom.
"Billy, for whatever reason, when he has other things on his mind and can't think so much on one thing, it makes his technique better," Koniowsky said.
"He wasn't so worried about everything going on out there. He was just living in the moment."
Price, an Ohio State football recruit, qualified for the state meet in both events but didn't perform as well as he would have liked. He believes he'll do better next month.
"With the state meet, it was my first time there and I was a 17-year-old kid," he said. "I got nervous and I mentally got a little flustered after a bad shot performance."
Saying goodbye
Local track official Joe DeRosa Sr. worked his final varsity track meet at last week's ITCL Tier Two championships after a 56-year career that stretched back to when he started coaching Lowellville in 1957.
"Back in the olden days, the home coach started [the race] and the visiting coach worked the finish line," said DeRosa, 80, whose son Joe was a longtime NBA official. "It didn't come until the mid-70s that you had to have your [certification] card as an official."
He first got a card in the early 1960s, "but after I worked the meet, I didn't get any money," he said. "And I had to pay the state. So I said, 'Why do I need that?' So I think I got my official card in 1974."
DeRosa worked his final meet of any kind Saturday: the Trumbull County junior high meet.
When asked why he's hanging it up, he shrugged and said, "I feel tired after I'm done."