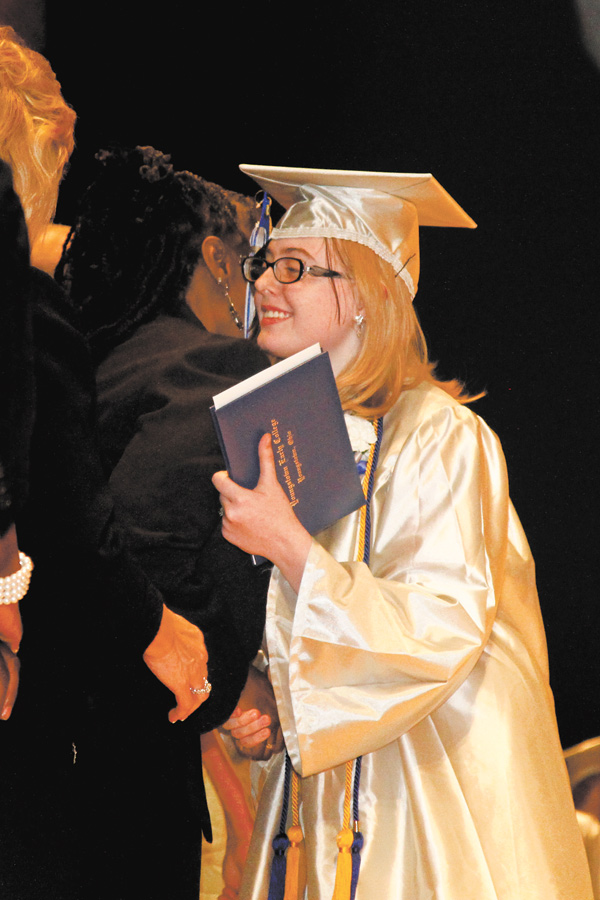 ---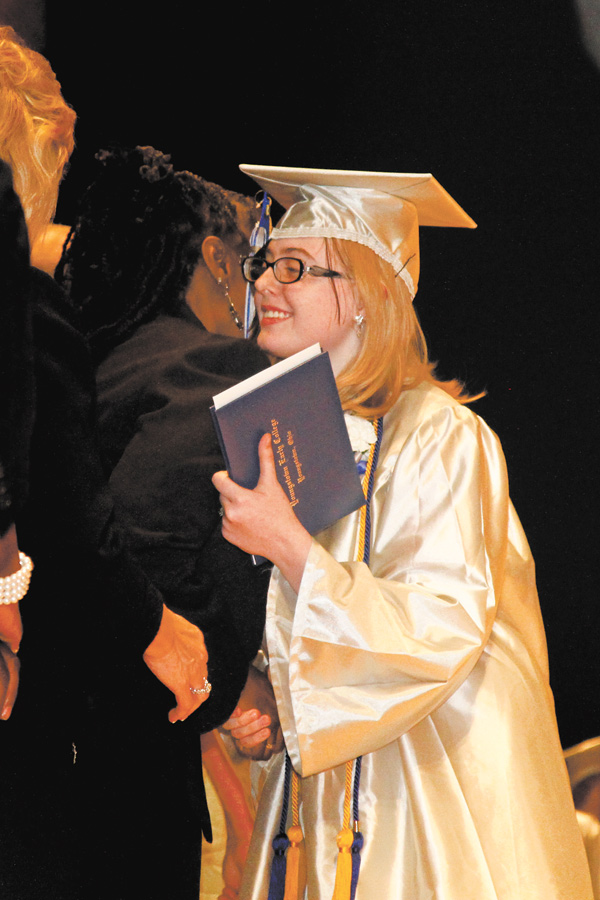 Photo
Nicole Miller smiles after receiving her high school diploma during Youngstown Early College commencement. Miller also is one of 10 of the 47 graduates who earned an associate degree from YSU's College of Liberal Arts and Social Sciences on Saturday.
YOUNGSTOWN
The 2013 graduates of the Youngstown Early College didn't talk as much about all the good times they had in high school as about their journeys, and how tough it was staying the course.
Youngstown Early College is a collaboration among Youngstown State University, Eastern Gateway Community College and the Youngstown City School District. Its graduates earn high school diplomas while also earning college credits.
"How can you go wrong with a principal as firm as Mrs. Dotson?" co-valedictorian Joe Nathan Ingram III asked, referring to YEC Dean Michele Dotson, at the YEC commencement Sunday at the DeYor Performing Arts Center.
Ingram said he was offered a scholarship to Cardinal Mooney High School. Instead, he decided YEC had more educational opportunities and now, through the Young Scholars Program, he has a five-year full scholarship to The Ohio State University.
Forty-seven students received their diplomas Sunday, and 10 of them earned associate degrees from YSU.
Channel Jashaun Madison, co-salutatorian, said she had a "rocky start with Mrs. Dotson, but now we are cool."
Madison said she played around a lot in her freshman year, but during her sophomore year realized the importance of grades and behaving correctly.
She urged her fellow graduates to not waste their time living someone else's life.
"Don't let the noise of others' opinions drown out your own inner voice. And most important, have the courage to follow your heart and intuition," said Madison.
Class President Ashlyn Baker said, "Mrs. Dotson played a significant role for us the past few years."
Turning to the dean, Baker said: "You and I have had many encounters, as you might recall, but I feel it has brought us so much closer."
"We should look at graduation as not the ending but the beginning of a new chapter in our lives," Baker said, urging her classmates to take their education further and expand their knowledge in their fields of choice.
"You have made it happen. You know you are capable of doing college work. You are going to go on to earn master's and doctoral degrees," said Dr. Laura Meeks, president of Eastern Gateway Community College.
The secrets of success are intellectual curiosity, dependability, and most important, confidence, said Meeks, commencement keynote speaker.
"It takes hard work and preparation and a lot of guts. Work hard, take a risk and dream big dreams," she urged the graduates.
The auditorium was filled not only with proud graduates and school officials, but also proud families.
At first, Youngstown Early College was challenging and frightening for graduate Tiasia Bradley, said her mother, Lisa Robinson. "But it's been a growing experience. I'm very proud of her," her mother said.
"We couldn't be more proud," said graduate Shawn Easterling's grandmother, Terri Simpson, who raised him. Also in the audience to see Easterling's big moment were his great-grandmother, Patricia Jo Frey of Newton Falls, and his other grandmother, Ann Easterling of Las Vegas.