Children services within JFS suits Columbiana County
Tweet
Published: Mon, May 20, 2013 @ 12:07 a.m.
System offers insight for Mahoning officials planning to merge CSB and JFS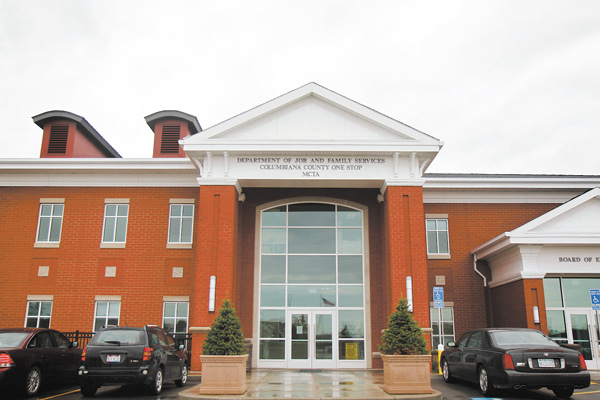 Photo
This year-old $8.8 million building off state Route 45, a mile north of downtown Lisbon, houses the children services, child support enforcement and income-maintenance functions of Columbiana County's Department of Job and Family Services.
LISBON
To see a functioning model of the teamwork that accompanies administration of children services by a county department of job and family services, Mahoning County officials need look no further than the county along their southern boundary.
With children services, child-support enforcement and income-maintenance divisions all under the administrative umbrella of the county's Department of Job and Family Services, Columbiana County offers an example of how the collaboration might work if Mahoning County decides to combine its children services operation with its county JFS.
Mahoning County commissioners formally declared their intent to do so at a meeting this month.
"Columbiana County DJFS really works as a team, and we do what's best to serve our families and our children," said Rachel Ketterman, Columbiana County children services administrator.
"When we're brainstorming about what to do with a family, we can quickly pull together a team and say: 'OK, what's going on with this family? What are some of the strengths and weaknesses, and how can we work with this family?'" said Eileen Dray-Bardon, Columbiana County JFS director. Such a team might have one representative from each JFS division, she added.
The income maintenance, child-support enforcement and children services divisions of Columbiana County JFS work together to provide a holistic approach to client services, with crisis teams serving multiple needs families when necessary, said Bardon, who speaks daily with Ketterman.
"All three program administrators have a very good relationship," Ketterman said of herself and the income-maintenance and child-support enforcement administrators. All three administrators report to Bardon.
Although it is a less-populous and more-rural county than Mahoning, the Columbiana County operation fits the pattern for the administration of children services under JFS, which prevails in 64 of Ohio's 88 counties.
Citing recent retirements in Mahoning County Children Services Board leadership and the overlap in CSB and JFS clientele, Carol Rimedio-Righetti, chairwoman of the Mahoning commissioners, said the panel is considering combining CSB with JFS to reduce administrative costs.
Even if CSB and JFS are administratively combined in Youngstown, Mahoning County Children Services likely would remain in the newly constructed secure downtown building it has occupied since 2005, which was designed to suit the child welfare agency's needs, Righetti said.
Mahoning County JFS already includes income-maintenance and child-support enforcement divisions, both housed along with other county offices in the county's Oakhill Renaissance Place on Youngstown's South Side.
Columbiana County JFS, including children services, child-support enforcement and income maintenance, moved a year ago from a former downtown Lisbon grocery store to a new $8.8 million, 75,000-square-foot county office building off state Route 45, about a mile north of the county courthouse.
All three Columbiana County JFS divisions are under one roof, with income maintenance in the center of the first floor, and JFS administration, child- support enforcement, children services and training and meeting rooms on the second floor. "It's very helpful when we're all right here," Bardon said.
When a children services client family needs household items, the administrative office sends an email to all JFS employees asking them to donate things they no longer need, Ketterman said.
With a total of 118 employees, Columbiana County JFS has 10 of them in administration, 24 in children services, 22 in child support enforcement and 62 in income maintenance.
Mahoning County Children Services has 116 employees. Mahoning County JFS has 220 employees, 10 of them in administration, 60 in child-support enforcement and 150 in income maintenance.
"One of the major advantages is they're very close together. It's easy for them to communicate," Columbiana County Commissioner Tim Weigle said of that county's JFS staff.
"It's very well-coordinated when you have it all under one roof," said his colleague, Commissioner Jim Hoppel. "They're all intertwined there, and they work together and solve their problems and share a lot of things," he observed. "We've just been very happy with the setup and have never seen any reason to change it."
The new building, for which the county borrowed money in the bond market, is a convenient one-stop shop, which also contains the county's Board of Elections and Veterans' Service Commission at opposite ends and the Mahoning-Columbiana Training Association's One Stop job placement office and the Ohio State University Extension Office in its basement.
Bardon said there are several advantages to having children services under JFS administration:
Reduced administrative costs by combining human resources, fiscal management, legal and clerical functions.
Flexibility in funding with federal social services and temporary assistance to needy families money shared with the child welfare office.
Better coordination of child-protective, child-support enforcement and income-maintenance services to families.
The ability to shift the compensation of employees from one funding source to another as funding sources and their availability change.
Despite the fact that Columbiana County Children Services is part of that county's JFS department, that county renewed a .75-mill children services levy in 2009 by a comfortable 62 percent favorable margin, Bardon said.
That levy raises slightly more than $1 million a year and is used almost exclusively to pay for foster care, Bardon said.
By calling attention to the issue of child abuse, "We make sure children services has a very specific identity ... so that children services doesn't get lost in the shuffle," Bardon added.