Sammartino, Codrea nuptials planned in June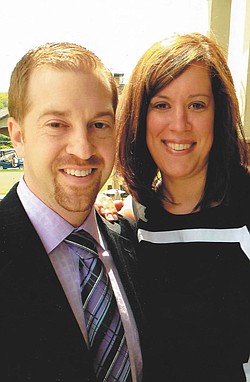 Photo
Jason Codrea and Jennifer Sammartino
Jennifer Sammartino of Delaware, Ohio, and Jason Codrea of Gahanna, Ohio, are engaged, their parents are announcing.
Laura Sammartino of Boardman is the mother of the bride-elect. Parents of the future groom are Phillip and JoAnn Codrea of Reynoldsburg, Ohio.
The couple are planning a 4:30 p.m. open wedding June 14 at Bethel Lutheran Church in Boardman. Invitations will be extended for a reception, which will honor the couple at The Lake Club in Poland.
The future bride received a bachelor's degree in education, cum laude, from Youngstown State University, and a master's degree in education from National University. She is an intervention specialist for Delaware City Schools.
Her fianc earned a bachelor's degree in finance from Anderson University in Indiana. He is a financial adviser for Codrea Financial Services in Gahanna.