Golfers: Think green to help heart health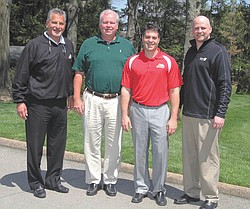 Photo
NICK MAYS | THE VINDICATOR From left, Joe Valvo, Dr. Mike Burley, Mike Case and Mark Shaw play important roles in the American Heart Association's 2013 Annual Golf Scramble. The fundraiser is scheduled for June 3 at the Youngstown Country Club. Local celebrity and former NFL star Tom Cousineau will play along with the other golfers.
Staff report
LIBERTY
The American Heart Association and Primus Medical LLC will host the 2013 Annual Golf Classic Scramble on June 3 at Youngstown Country Club, 1402 Country Club Drive, to fight heart disease with the help of former NFL star Tom Cousineau.
Those who attend the fundraiser will get to tee off for prizes while helping a good cause and playing alongside a celebrity.
The 18-hole scramble will begin with a shotgun start at 1 p.m. For $250 per person and $1,000 for a team of four, golfers will get lunch at 11:30 a.m., golf carts, refreshments on the course and an awards ceremony afterward.
A cash prize of $25,000 will go to the golfer who gets the first hole in one. The prize is provided by the event chairmen, Dr. Michael Burley and Joe Valvo. Other first hole-in-one prizes include at 2013 Cadillac CTS provided by Stadium GM and a $10,000 shopping spree donated by Adamas Jewelry and Gifts.
Other prizes will be for closest to the pin, offered by Spalon of Sara Morris, Warren; and Tele-Gold Jewelers, Boardman. Individuals and teams will receive other monetary prizes at the event's end.
Money raised will benefit the AHA's cardiovascular research, education and advocacy programs in the community. To register for the golf classic, call the AHA at 330-318-1003.
WFMJ TV-21 is the media sponsor; the major event sponsor is Primus Medical, and gold sponsors include Prout Boiler, Heating & Welding; Sharon Regional Health System; Sims Buick, GMC, Nissan; and Taco Management.