Local physicians recommend genetic testing for cancer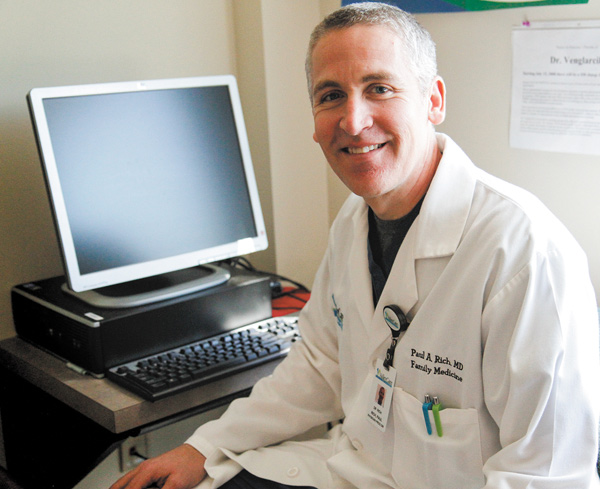 Photo
Dr. Paul Rich of the ValleyCare Medical Group said actress Angelina Jolie's decision to undergo a preventive double mastectomy may encourage others to get tested.
By Emmalee C. Torisk
YOUNGSTOWN
Ada Amendolara of Youngstown died of ovarian cancer in 1980 at age 58 — a decade before the discovery of breast and ovarian cancer-causing mutations in the BRCA1 and BRCA2 genes.
Had the technology existed, she certainly would have been offered testing for the mutations due to warning signs in her family's history, said Dr. Paul Rich, a primary care physician for the ValleyCare Medical Group and Amendolara's grandson.
Amendolara's mother — Dr. Rich's great-grandmother — had also been diagnosed with ovarian cancer.
"When you get this mutation, it doesn't definitively mean you'll get cancer," Dr. Rich said. "The risk of breast cancer in the general population is about 8 or 9 percent. The risk of ovarian cancer is less than 1 percent. These individuals' risk of breast cancer is 87 percent, and up to 44 percent for ovarian cancer."
Last week, actress and director Angelina Jolie announced that she had undergone a preventive double mastectomy and reconstructive surgery after genetic testing found she faced similar risks as the carrier of a mutated BRCA1 gene. Jolie's mother died from ovarian cancer at age 56.
"We don't just test all patients all the time. There are certain red flags that might make the physician say, 'Your family's history warrants you being tested for one of these genetic cancer syndromes,'" Dr. Rich said. "One of these red flags is a family history of ovarian cancer. That was my mother's red flag, and that was Angelina Jolie's red flag."
Patients who test positive for any of many genetic cancer syndromes have a 50 percent chance of passing the mutation to their offspring, Dr. Rich said. Genetic testing found that his mother, Patty Rich, and his sister, Gina Finley, are also carriers for the BRCA mutations, which account for 52 percent of all hereditary breast cancer.
But just 10 percent of patients at risk for the genetic mutations that predispose them to a higher risk of cancer are being identified by their physicians and tested, said Dr. Rich, who has done testing since 2007.
There's a lot of resistance to being tested, especially from women, he said, even though the test itself is simple — conducted through a blood test or a mouth swab — and is "as accurate as you can possibly get."
Some patients mistakenly believe that no insurance coverage exists for the testing, which is offered by the Salt Lake City-based Myriad Genetics and can cost up to $4,000, Dr. Rich said. But the vast majority of his patients, he said, pay only about 10 percent of the cost out of pocket. Others think that nothing can be done after a patient tests positive for a genetic mutation, which is simply untrue, he said.
"There are a whole host of modalities that your physician might utilize to either prevent you from acquiring the cancer, or do heightened screening to be able to pick up the cancer at an earlier age," he said.
One option — and the option that Jolie chose — is bilateral prophylactic mastectomy, or removal of the breasts, which decreases the risk of breast cancer by more than 90 percent, Dr. Rich said. Another is bilateral prophylactic oophorectomy, or removal of the ovaries, which decreases the risk of ovarian cancer by 90 percent and the risk of breast cancer by 60 percent. Patients can also elect to have more frequent mammograms to be put on medication.
Not many women opt for the mastectomy or removal of ovaries, Dr. Rich said, but Jolie's decision may encourage more patients to get testedand consider surgical options.
Doing so isn't as radical or controversial as recent news coverage might make it seem, said Dr. Nancy Gantt, co-medical director of the Joanie Abdu Comprehensive Breast Care Center at Humility of Mary Health Partners. She is a breast surgeon who works with people diagnosed with cancer.
"The biggest risk factors are being a woman, having breasts and getting older," Dr. Gantt said. Warning signs in a family history are signs of concern, she added.
"When you find out you've got the gene, you get your breasts taken off, especially if you're a young mother," Dr. Gantt said. "Either that or testing every six months. Which would you rather do?"
Drs. Rich and Gantt said they hope Jolie's announcement will encourage more patients to get tested.
Millions of people have been affected by the cancers associated with these genetic mutations in the last 20 years that the testing technology has been available, Dr. Rich said.
"My grandfather will be 96 this year. It was 33 years ago that my grandmother died, and my grandfath er's never dated another woman," Dr. Rich said. "He lost her as a result of this mutation, which we didn't know about, but he spent the last 30 years alone as a result. There are a lot of people who would not have to have that experience if we were identifying more of these patients."
More like this from vindy.com